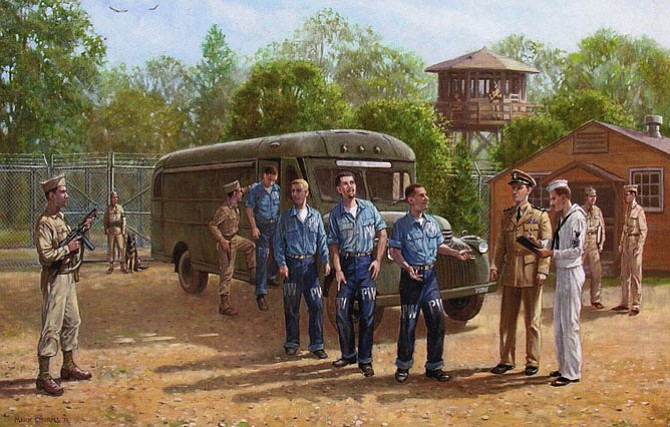 The Fort Hunt Story, a talk sponsored by Potomac Community Village about a top-secret World War II facility on the Potomac River near Mount Vernon will be held at 12:30 p.m. Friday, March 9 at Potomac Community Center.
Dorothy Canter, an amateur historian and volunteer at Fort Hunt will tell the Fort Hunt Story focusing on the years 1942-45 when the fort operated a secret camp known only as P O Box 1142. High-level military personnel and scientist prisoners of war were interrogated there, allowing the United States to obtain valuable military intelligence.
Among those questioned at the camp was Reinhard Gehlen, a general who Hitler fired from his command as head of Nazi intelligence on the eastern front, and Albert Einstein, Canter said.
Canter said she was a longtime volunteer with the National Parks Conservation Association when a friend called and asked what she knew about Fort Hunt Park. She said she knew nothing but would see what she could find. That led to her learning about P O Box 1142.
It was such a top-secret installation that even the National Park Service, which took over the site in 1948, did not know about it until records of P O Box 1142 were declassified.
Since then, Canter said, the National Park Service has taken oral histories from several people involved as interrogators and former POWs.
"I will be mainly speaking about [P O Box 1142] but there is still more history [of the Park], I will be talking about that too," Canter said.
The talk is open to the public and guests are welcome to bring a brown-bag lunch.
Potomac Community Center is located at 11315 Falls Road.
To learn more about Potomac Community Village, a non-profit started to help residents age in place by creating social connections and providing volunteer services, call 240-221-1370 or email info@ PotomacCommunityVillage.org.