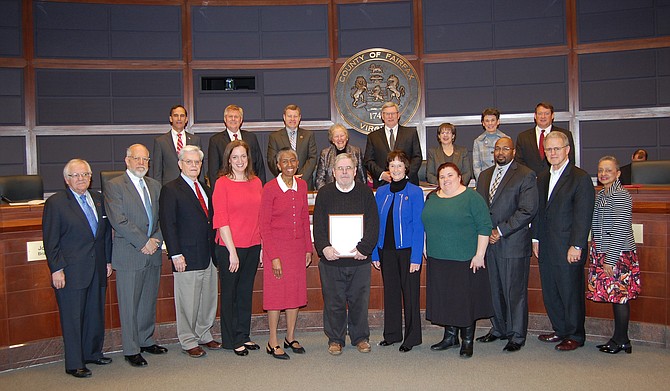 The Fairfax County Board of Supervisors recognized Reston resident Frank de la Fe for his service to Fairfax County and the Hunter Mill District at the March 20 Board of Supervisors meeting. De la Fe served on the Planning Commission, Hunter Mill District, for Fairfax County for sixteen years, having been appointed in December 2001 and reappointed two years later. In January 2013, De la Fe was named Vice Chairman of the Planning Commission, a seat he held until his retirement. One of De la Fe's most notable achievements was his work with the Planning Commission to bring rails to the Dulles Corridor.

De la Fe also served on the Park Authority Board, five years as Board Chairman. During his service, the Park Authority was able to acquire more than 4,000 acres of open space that has been used for recreation, active and passive, by County residents.
The website for Fairfax County Planning Commission states: "Commissioner de la Fe worked for the National Aeronautics and Space Administration in the 1960s. From 1969 to 1971, he helped create the Illinois State Bureau of the Budget. He then returned to Federal service to establish the Special Action Office for Drug Abuse Prevention. In 1974, he moved to the Justice Department's Law Enforcement Assistance Administration. He completed his federal career in 1994 when he retired from the Office of Personnel Management. A long-time community activist, since moving to Reston in 1971, Commissioner de la Fe has served in a variety of leadership positions, including serving on the boards of the Reston Association and Reston Interfaith."
De la Fe had announced his intention to retire at the Nov. 2, 2017, Board of Supervisors Meeting. Hunter Mill Supervisor Catherine Hudgins announced John Carter as the new Hunter Mill District Planning Commissioner to replace Frank de la Fe.
In a separate action, the Fairfax County Board of Supervisors appointed the following Hunter Mill residents to the County's boards and commissions:
Alexandra Rossi – appointed to the Southgate Community Center Advisory Board; Janet Bradshaw – reappointed to the Southgate Community Center Advisory Board; Kathleen Jones, Luis Ortiz Lopez, and Darlena Ricks – reappointed to the Southgate Community Center; and Paul Noursi – reappointed to the Engineering Standards Review Committee.