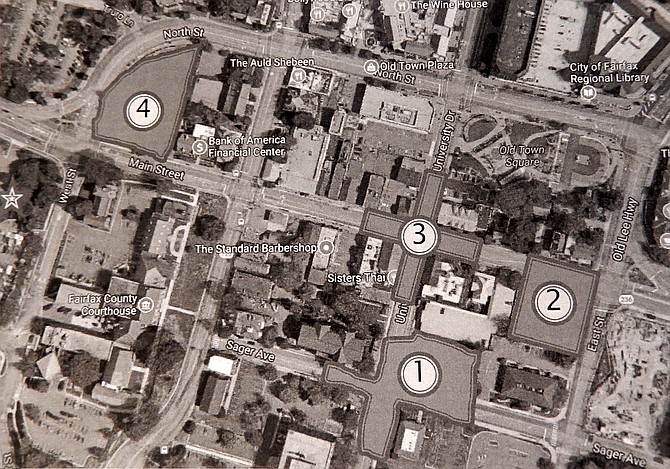 In an effort to increase vitality in Fairfax's downtown, City Council directed staff to investigate four possibilities. These were sidewalk spot-widening, a road diet pilot through Old Town, relocation of the farmers market to downtown and implementation of electronic parking-garage signage.
Transportation Director Wendy Sanford presented the results during a Feb. 13 work session. Regarding spot-widening, however, she said staff will be able to discuss it once the Old Town design guidelines are finalized.
Meanwhile, the segments being considered are: Sager Avenue, north side, east of University Drive; University, west side, north of Sager; Old Lee Highway, west side, north of Main Street; Main, south side, between University and Old Lee; Chain Bridge Road, west side, between North Street and Main; Main, north side, between University and Old Lee; and Chain Bridge, east side, between North and Main.
As for a road diet, which would narrow the vehicle lanes, Sanford said, "Instead of a permanent road diet, we're considering a temporary, Feet on the Street plan to show the connectivity between places in the City's downtown. The goal is to energize the Old Town area and create a better sense of place. We'd use one of the outer, northbound lanes to create a pedestrian zone along University Drive, Saturday mornings, for a few hours, to test it out."
THE IDEA, she explained, is to create a pop-up pedestrian zone. It would provide more space for pedestrians to walk in the downtown area, as well as opportunities for local business engagement and programs. And it could be employed during scheduled, special events such as Fit Foodie on June 2, the Saturday morning children's program, the farmers market and various festivals.
Staff considered four possible sites for the farmers market relocation: The Sager/University public lot and surrounding intersection, the Amoco lot and a small portion of Main Street, the Main/University intersection, and the Bank of America lot. And after doing so, they picked the Sager/University option.
"The farmers market supports this plan, but it's not possible for this year," said Economic Development Director Chris Bruno. "But other events could go there. Some examples are a flea market, a Taste of Fairfax or Old Town, a food truck festival, the Labor Day Car Show, Art in the Lot, pop-up shops and a strawberry festival. This is to anchor and engage businesses in Old Town."
Sanford then asked the Council members, "Do we want to proceed with the one-block, Feet on the Street or with a two-block area from Armstrong Street through Old Town? We haven't done this before, so it'll be a learning experience for us."
Councilwoman Jennifer Passey said, "I like the idea of doing this in short bursts so people can create new habits." Councilwomen Ellie Schmidt and Janice Miller both liked the suggested pop-up pedestrian area, and Councilman Jon Stehle preferred a two-block section.
Councilman Jeff Greenfield wanted to discuss the farmers market relocation. Earlier, Bruno said the reason the vendors didn't want to move their site this year is because they wouldn't be able to park their vehicles near them, as they currently do. But Greenfield and other Council members didn't see that as a valid excuse and wanted to relocate the farmers market this season.
"The Mosaic District has a robust farmers market and the trucks are all parked elsewhere," he said. "We need to talk to the vendors. I don't know why we couldn't have a version of this in Old Town Square, like we did for the Holiday Markets. And I'm willing to help recruit new vendors for downtown."
AGREEING, Schmidt said, "I'd like to see the farmers market moved sooner, rather than waiting a year. If we take away the [parking] spaces from the Sager parking lot, we need to identify other parking areas." Miller also wanted it relocated this year.
Bruno said the City would do a "significant marketing campaign" to let residents know about any and all changes made. He also noted that "A number of people suggested having a strawberry festival, so we'll look into it." Greenfield said Fairfax needs to do more with its app to promote the farmers market, the City and all the information the app offers – especially about parking – to the residents.
"Our objective is to promote more walkability downtown and, therefore, more business," explained Councilman Michael DeMarco. "But our downtown businesses are struggling to get business, so we should do the pop-up zone when there's not a special event, so we can test the water. Make it two blocks – and why not on North Street, too? It's about driving more business downtown."
As for electronic parking-garage signage, it would let residents and visitors alike know about the City's parking garage and help the Old Town businesses. Signs can be at the garage entrances or within 1,000 feet. Sanford said an invitation to bid on this project was on the City's Website.
At the work session's end, Mayor David Meyer weighed in on the farmers market. "We should be able to be more flexible and have it in a different location this year," he said. "Having it closer to downtown would give it more visibility and, therefore, attract more people."
Noting that the market could also have "more diverse offerings," he said he wanted a marketing and communications plan for it. Ultimately, said Meyer, "I'd like Fairfax City to be known as the go-to place for farmers markets, every weekend."