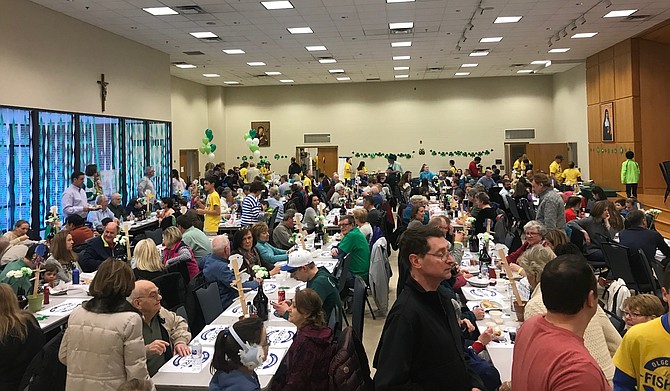 What started as a simple vision from two Pittsburgh transplants, Russ Weaver and Chris Collins, blossomed this past year at Our Lady of Good Counsel's (OLGC) second annual Fish Fry. OLGC's Pastor, Father Matt Hillyard, supported and volunteered at the event, as did the Oblates. OLGC parishioners and the community came together to break bread in DeSales Hall or at home with a takeout option after a long day at work.
This year, Weaver and Collins again enlisted their Fish Fry team to orchestrate six Fish Fries during Lent that engaged more than 200 diverse parishioners that ranged in age and walk of life, including: Boy Scouts, CCF Students, Fil/Am Community Ministry, Girl Scouts, Hispanic Group, Knights of Columbus, Men's Club, OLGC School students and staff, Parent Teacher Organization (PTO), Parish Staff, Oblates, Single Seniors, Teen Youth Group, Young Adults and Women's Club.
Parishioners, students, family, and friends came together to prepare 1,900 pounds of cod, 370 pounds of shrimp, and 20 gallons of oysters that were fried or baked over the six weeks. Weekly the volunteers prepared more than 400 pounds of homemade hand-cut fries, coleslaw, rice and beans, mac & cheese, tartar, rémoulade, and cocktail sauces—all made from scratch! Countless volunteers, including OLGC school students, donated homemade desserts to top things off. Despite Mother Nature trying to wreak havoc, the March 16 Fish Fry went on. Photos from the event can be found at on Facebook page under the album Annual Fish Fry https://www.facebook.com/pg/OLGCViennaVA/photos
Through the generosity of Fish Fry attendees, the 50/50 also raised more than $800 for the Women's Club Power Pack Drive to benefit Food for Others and $750 to benefit the Young Teachers' Fund. Additionally, many local businesses contributed to the success this year, including: Abe Lincoln Signs, Caboose Brewery, Italian Gourmet, Kelley Tree Service, Lombardi's Pizza, Norm's Wine and Spirits, Party Mania, Skorpio Maggio's, and The Dress Code.
Save the date of March 8, 2019 for the third annual Fish Fry. For more information, contact OLGCFishFry@gmail.com.