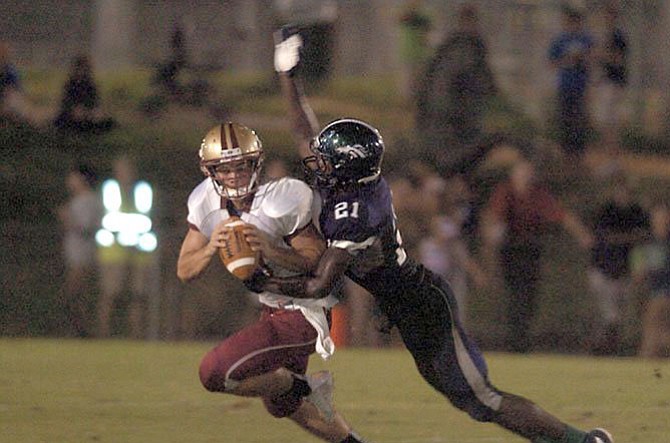 Oren Burks caught the attention of NFL scouts while starting at three different defensive positions during his four seasons at Vanderbilt University. But it wasn't until Burks received a late invite to the Senior Bowl that the 2013 South County graduate started to establish himself as a potential early-round draft choice.
The Green Bay Packers on April 27 selected Burks in the third round of the 2018 NFL Draft. After taking a cornerback in each of the first two rounds, the Packers drafted Burks, a 6-foot-3, 233-pound inside linebacker, with the 88th overall selection.
"I felt really good about my process following graduation and the season last year," said Burks, who watched the draft with family and friends in Fairfax Station. "[Things] got rolling with the Senior Bowl and I went into the combine and had great numbers."
Burks played safety during his freshman and sophomore seasons at Vanderbilt before moving to outside linebacker as a junior. Burks transitioned to inside linebacker as a senior following the departure of standout Zach Cunningham, who was selected by the Houston Texans in the second round of the 2017 NFL Draft. Burks totaled 82 tackles as a senior and recorded one sack, an interception and a fumble recovery.
With the 2017 season having ended, Burks was working out in Oakland when he received a late invite to the Senior Bowl --- a showcase game for college seniors held Jan. 27 in Mobile, Ala.
Burks recorded six tackles, including two tackles for loss, for the victorious South team.
Three months later, Burks attended the NFL Scouting Combine in Indianapolis. His broad jump of 10 feet, 11 inches tied for the best result among linebackers. He also produced the second-best time in the 20-yard shuttle (4.15 seconds), the second-best vertical jump (39 1/2 inches) and the third-best time in the three-cone drill (6.82).
How much did Burks' performance at the Senior Bowl and combine help his draft stock?
"Magnificently," Burks said. "Before the Senior Bowl and the combine, I was a late-round guy."
Prior to his days as a college standout and an NFL Draft pick, Burks terrorized opposing offenses as a South County Stallion. As a junior, Burks led South County to a region championship and a berth in the 2011 5A state championship game. He totaled 128 tackles, 11 sacks, two interceptions and three defensive touchdowns. The following season, Burks was a first-team all-state selection, totaling 123 tackles, six forced fumbles and three interceptions.
After success at the high school and college levels, Burks now has an opportunity to compete against the best in the world as a member of the Green Bay Packers.
"I feel," Burks said, "like I can come in and compete right away."