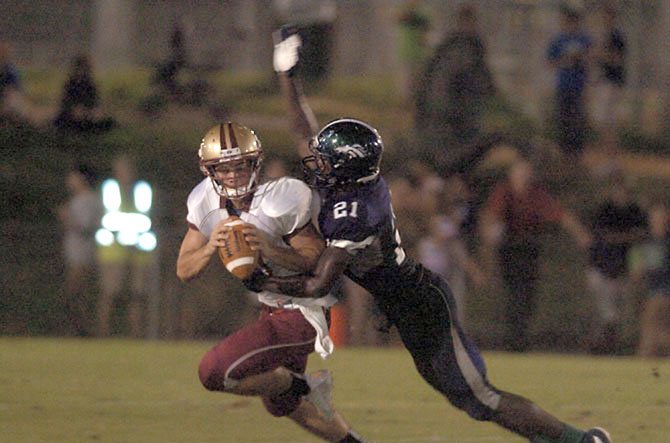 Oren Burks, a 2013 South County High School graduate, was a defensive force on the football field for the Stallions. As a senior, the linebacker/defensive end totaled 123 tackles, 3.5 sacks and three interceptions, one of which he returned for a touchdown, en route to Patriot District Defensive Player of the Year honors. After a 1-5 start, Burks helped South County win five straight to reach the Northern Region Division 5 semifinals.
During Burks' junior year, the Stallions started 0-3 before winning 11 straight, including a region title, on their way to an appearance in the Division 5 state championship game.
Burks will continue his football career at Vanderbilt University, where he received a full scholarship. As a member of the Commodores, Burks will test his skills against opponents in the Southeastern Conference, which has produced the last seven BCS national champions.
Burks participated in a Q and A with The Connection via email.
*Connection: What made Vanderbilt the right fit for you?
Burks: Vanderbilt had the perfect balance of everything I was looking for in a school: world-class education, competing at the highest level and the opportunity to be a part of a team that is going to start a legacy.
*Connection: What position will you play?
Burks: I will play "star backer," which is an OLB/safety position where I will be able to make plays all over the field and use my athleticism to my advantage.
*Connection: What is your favorite memory of playing football at South County?
Burks: My favorite memory as a Stallion would have to be our playoff run in the 2011-12 season, which landed us in the Virginia Division 5 state championship game.
*Connection: What are you most looking forward to about the transition from high school to college?
Burks: I am looking forward to challenging myself both athletically and academically at the next level. I know the transition isn't going to be easy but I'm looking forward to the experiences.
*Connection: At what age did you start playing football? Did you imagine you'd one day play it in college?
Burks: I played one year of little league football when I was about 6 or 7. I didn't start playing football again until I was a freshman in high school, just for fun. I originally wanted to pursue a DI basketball scholarship but started to see more opportunities with football and really developed a love for the game. A lot of my coaches told me early on in my football career about the potential they saw in me but I never could've imagined that I would be where I am today.
*Connection: What will you study at Vanderbilt?
Burks: Human organizational development, which focuses on finding solutions to human problems in businesses, organizations and communities.
—Jon Roetman