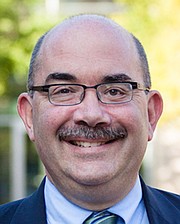 Why are you running for Montgomery County Executive?
I am running for County Executive because I love Montgomery County. I was raised in this extraordinary place, and along with my wife Soraia, have raised our two sons in this community. I have served as your County Councilmember for 15 years, and am proud that we've advanced the most progressive policies in the nation. I was raised on the values of hard work, community, equality, social justice and opportunity for all of us, not just the wealthy and the well connected. I have never been afraid to speak truth to power — that doesn't always make me the most popular person in halls of government, but it gets results for Montgomery County families.
My Mom and Dad were both physicians, and they always taught me that health care is a basic human right, not just for the people who can afford it, but for everyone. While Donald Trump and Republicans in Congress attempt to destroy the Affordable Care Act and strip coverage from millions of poor and middle income Americans, here in Montgomery County, I established the Montgomery Cares program, providing 70,000 doctor visits annually to patients without insurance. It's why I have worked to ensure prenatal care for expectant mothers without insurance, and to secure health insurance for all Montgomery County children.
As a young man, I got my start in public service as Senator Barbara Mikulski's Legislative Director. She taught me a great deal about leadership and toughness, and is one of the reasons I am an outspoken champion for women, equal pay, and a woman's right to choose.
As your next County Executive, I will continue my advocacy for all members of our community, including the most vulnerable. Through my work, we have housed every homeless veteran in Montgomery County and provided property tax credits for the elderly and disabled. As County Executive, I will require that any new residential construction includes affordable units, so families of all income levels can afford to live in the county.
But I know that we cannot fully achieve social justice unless we have a prosperous economy that treats workers fairly and an education system that gives all children a path to career success. I successfully fought to raise our county's minimum wage to $15. I am working to make pre-kindergarten available to all Montgomery County children. And I have a plan to eliminate tuition at Maryland Public Colleges and Universities for Montgomery County students who commit to 5 years of working in a civilian public service job in the county.
Life in Montgomery County is so enriched by our diversity. My grandparents, my mother and my wife are all immigrants to America. As County Executive, I will stand up to the Trump administration in their efforts to intimidate and terrorize immigrant communities.
I'm not running as an outsider to county government. I'm running as the guy who knows how to gets results by advancing policies that reflect our progressive values. I offer progress and experience that money can't buy.
Past experience: political and/or professional.
I have been a Montgomery County Councilmember for 15 years. Prior to that I was the Chair of the Montgomery County Democratic Central Committee for five years. I was Senator Barbara Mikulski's Legislative Director for five years. In December, 2017 I earned my PhD in Public Policy at the University of Maryland.
What do you consider the biggest problem facing Montgomery County today?
The issue of de facto segregation in our schools is the top structural inequity in Montgomery County, and it is too important for our future for the next County Executive to take a hands-off approach. For too long, we have failed to address the fact that outcomes for Black and brown kids are deeply inequitable, as compared to outcomes for white and Asian American kids, and that access to the programs that can change kids' lives and trajectories are concentrated among families that already have the most resources. It's a disgrace that in our community, where we express progressive values and promote diversity and inclusion, that we would tolerate schools where segregation by race and income is increasing (https://ggwash.org/view/31601/de-facto-segregation-threatens-montgomery-public-schools).
What is your dream accomplishment for the County?
My dream accomplishment would be to ensure that our schools provide opportunities for every family in our community regardless of race, income, or zip code and that access to health care is guaranteed.
Is there anything else you think voters should know about you when deciding who to vote for?
I have a deep desire to help those who most need a government on their side. I have some ideas:
Affordable Housing – When Ike Leggett was elected to his first term as County Executive, I suggested to him that he create the position of Faith Liaison, which both Fairfax County and the District of Columbia had already. The position is currently filled by the Rev. Mansfield "Kasey" Kaseman. If I'm elected County Executive, I will significantly increase the portfolio of that position. Kasey has been working to develop a GIS mapping system of houses of worship, which I would like to see us put to use to identify locations where affordable housing could be developed. Then, we should work to partner willing houses of worship with developers to utilize available land for a multiplicity of affordable housing types, ranging from multi-family buildings to collections of tiny homes. Religious institutions are mission-driven, and many of them have land that could be made available at a below-market price. I will also double the amount of money in the Housing Initiative Fund in my first term as County Executive.
Education - If elected County Executive, I will initiate a program whereby the county pays in-state higher education costs for residents with critical workforce skills (especially language skills), in return for a reciprocal obligation, where the residents agree to come back and work for the county for five years after getting a degree. This would assist in meeting the acute need for speakers of Spanish and other critical languages in the school system, law enforcement, Health and Human Services, and other areas.
I have been endorsed by the LGBTQ Democratic Club, the Latino Democratic Club, Congressman Kweisi Mfume, Delegate Sheila Hixson, former Senators Karen Montgomery and Ida Ruben, former Delegates Saqib Ali, Bill Bronrott, and Herman Taylor, Garrett Park Mayor Peter Benjamin, and many, many other local leaders.