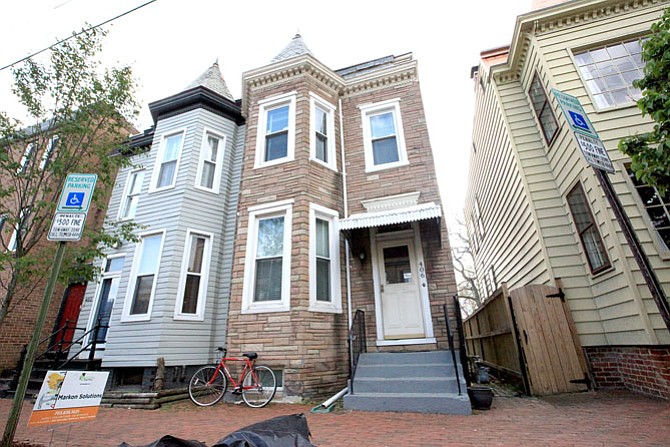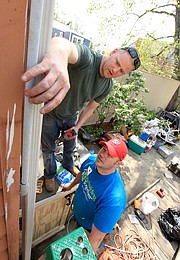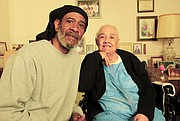 For a moment the house at 406 N. Alfred St. was full of people again, and Charlene Taylor-Napper seemed perfectly happy. The 86 year old is bound to a wheelchair, and spent the morning of April 28 at home with her son, Erich, talking to a team of 15 volunteers with Rebuilding Together Alexandria and then receiving a group from the Daughters of the Elks before things returned to normal. But that's the thing — for Taylor-Napper, who has lived in the house since 1949, normal means lots of foot traffic.
"Today has been quality time that God set aside, and you couldn't have planned it any better or something would have gone wrong," Taylor-Napper said. "All of this work on our home means the world to me. I have never been at a loss for talking, but right now to describe my feelings for what Rebuilding Together has done for my family and me — words can not express it. From the very first they were like family. It's indescribable."
More than 700 volunteers on 35 teams participated in the 32nd annual Rebuilding Together Alexandria Day on April 28.
RTA President and CEO Katharine Dixon said that the day was successful.

"Rebuilding Together repairs homes, revitalizes communities and rebuilds lives," Dixon said. "Our hope is that by keeping our neighbors in affordable and safe housing, they remain active members of their communities, helping Alexandria remain economically, socially and culturally diverse."
Taylor-Napper moved into the home with her parents and husband after it was gifted to the family in 1949. The three-bedroom, one-bathroom home was built in 1880, and city currently assesses its value at over $800,000, but the family won't consider selling. It is the third time that RTA has assisted the family with repairs, which this time included $3,000 in materials to replace windows, secure handrails, some painting and electrical rewiring.
"We'll never sell it. This is our home. This is the only home I have ever known," Erich Napper said. "We get calls all the time from people who want to buy the house, but there's no price on it."
A team of 15 government contractors from Markon Solutions, which has contributed to RTA for three years running, spent all day repairing the house.
"We've replaced eight window sills, repaired damage to window frames, built a new roof, door framing, just pretty much refreshing and replacing what we can, because the house definitely needed some new life," said volunteer Scott Kerns.
Mayor Allison Silberberg visited three RTA sites.
"Our city is about kindness and compassion, and Rebuilding Together exemplifies that beautifully," Silberberg said. "Kudos to Katherine Dixon and staff of RTA, the board of directors. It's just a huge team effort."

Taylor-Napper raised three sons in the townhouse, which is still very busy, but has grown quieter over time. It used to be ordinary to see upward of 30 people running through the front door, she said. Her parents Charles L. And Dorothy Taylor died within the last 15 years, she's lost two sons, but her grandchildren and great grandchildren still consider the townhouse at 406 N. Alfred St. home.
"There has been so much love in this house," Taylor-Napper said. "This house has memories, and those can't be taken from you."