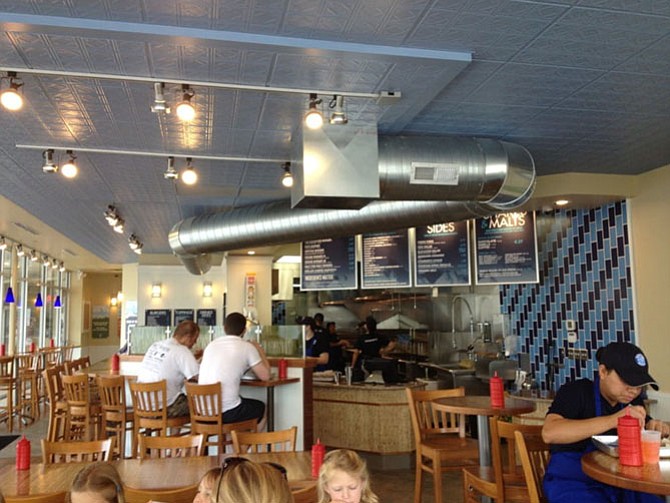 What started by a passionate burger guy in Falls Church in 2005 has become an international burger destination. With corporate headquarters also in Falls Church, the metro area has welcomed several of its burger places, where patrons can dig into grass-fed, free-range, and organic beef patties.
Elevation Burger was originally conceived in 2002 by founder, Hans Hess when he couldn't find the burger he'd been dreaming about since he left California in 1999.
For those looking for an Elevation Burger in the Vienna area, rejoice. A recently opened corner location in the Danor Plaza has ample indoor and outdoor seating, and a cheerful crew who deliver orders promptly.
Scrolling through the menu turns up choices other than burgers: vegans can select one of two veggie burgers. And nonbeef eaters can choose among several chicken sandwich choices; a grilled cheese; a hot dog; or a BLT meal. And among the chicken goodies, imagine a crispy chicken sandwich with sriracha (the spicy Thai sauce) highlighting the meal. Calorie counters have a few salad choices as well.
But coming here for a burger makes this a beef-lovers' must destination. Choices are spread out over many options, from a plain, single-patty sandwich, to a bacon cheddar burger; a guacamole ranch burger; a mushroom-Swiss cheese burger; and something called a Vertigo burger, to which the patron can stack up to 10 patties on a potato bun—among other choices,
But keeping it simple, such as the Elevation burger with two patties on a potato bun opens up the meal to assorted sides: chips, fries; fiery cheesey fries; and the dessert of three cookies. And don't skip past the thick, creamy (and caloric) shakes. How about wrapping up the meal with a Cookies and Cream shake made with Oreo cookies and vanilla ice cream?
There's also a Strawberry Cheesecake shake, though the cheesecake is something called a "cheesecake powder."
When all is said and done, and you are moving about the metro area hungering for the ultimate burger treat, rejoice. Elevation Burger has six locations in Northern Virginia.
Elevation Burger, Danor Plaza, 142 Branch Road SE., Vienna, Va. 703-865-7277. Hours: open daily, starting at 11 a.m.