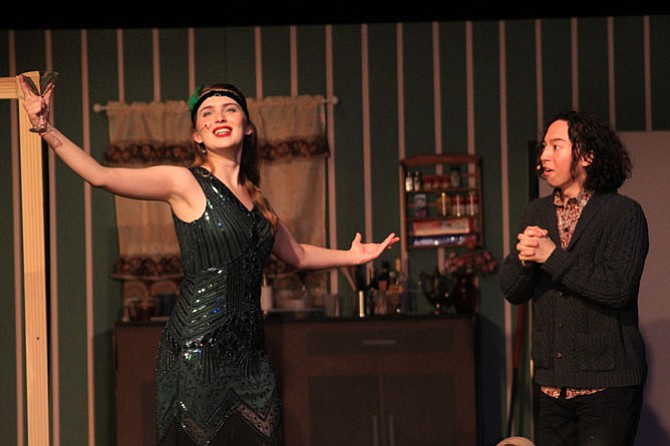 Although entitled "The Drowsy Chaperone," Wakefield High School's spring musical was anything but sleepy and lethargic. The cast and crew performed the musical parody with excellent comedic timing and energy, providing entertainment and laughter for all.
Written by Don McKellar, Bob Martin, Lisa Lambert, and Greg Morrison, "The Drowsy Chaperone" is a musical comedy that puts a new twist on classic trope of a show-within-a-show. The show debuted on Broadway at the Marquis theatre in 2006. It was nominated for 13 Tonys and won several such as "Best Original Score" and "Best Costume Design."
The show begins with the "Man in Chair" (Ethan Chow) delivering a short monologue about the theatre. He then puts on a record of his favorite show which shares the name of the musical itself. The "Man in Chair" character serves as both a narrator and a character with his own arc. Chow played this with depth and a comedic charisma that allowed the audience to trust him and also laugh with him. The frequent breaking of the fourth wall to share trivia about the show allowed for an intimate feel that drew the audience in and made them chuckle. Chow spoke comedy throughout the show but took a more serious tone for the monologues that the "Man in Chair" has. The main monologues are about his divorce and then about why he loves the record. Chow delivered both with a touching integrity.
As the record spins and the show begins, we meet the cast of characters that are involved in the wedding of the glamorous celebrity Janet Van De Graaff (Samantha Rios) and her fiance Robert Martin (Garrett Rinker). Both Rinker and Rios quickly demonstrate their respective vocal prowess with their renditions of "Cold Feets" and "Show Off." Another cast member with polished vocals was Xavier Molina. Molina played Aldolpho, a Hispanic man who is the self-proclaimed "king of romance." His pitch was spot on, and his comedic timing was excellent. His song of seduction to the Chaperone, "I am Aldolpho," was absolutely hilarious.
The ensemble as a whole had an excellent chemistry that kept up the momentum of the plot. Comedy can be difficult to sustain, but this cast had the energy to keep the audience laughing from beginning to end. One particularly amusing character was the butler named Underling (Jack Cackley). Cackley kept up a consistently sullen demeanor that made his biting one-liners even more snappy. His eventual romance with the ditzy Mrs.Tottendale (Gwenyth Covington) showed that Cackley could add emotional depth to his character without sacrificing any comedic value.
While mostly comedic, "The Drowsy Chaperone" has some serious moments that are thought-provoking for the audience. The performers at Wakefield did a superb job of honoring the serious moments while also keeping the energy and hilarity of an old-fashioned Broadway show.