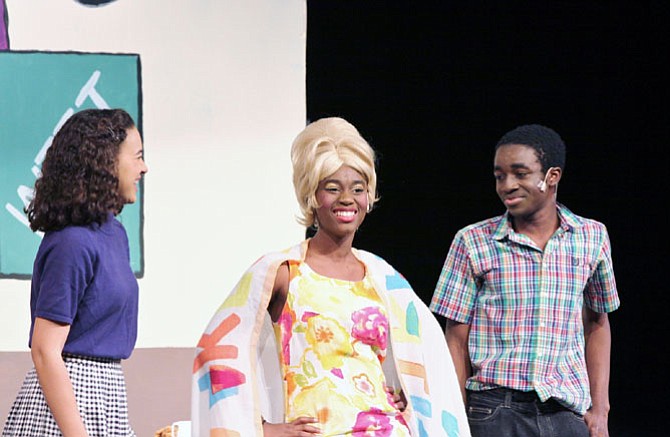 South Lakes High School's production of "Hairspray" showed that "You can't stop the beat" of these performers.
"Hairspray," originally a 1988 film, was made into a stage musical and debuted on Broadway in 2002, where it ran successfully for six years. Set in the 1960s, "Hairspray" chronicles the crusade of the heavyset, yet talented Tracy Turnblad in her efforts to become a "regular" dancer on the Corny Collins Show. The upbeat and comical music manages to also touch on more serious issues, such as racial segregation and having a positive body image, through Tracy's defiance of the time's societal norms. Her awkward best friend Penny Pingleton, newfound friend Seaweed J. Stubbs, crush Link Larkin, and supportive parents accompany Tracy on her adventures.
Mely Megahed, who played Tracy, wowed the audience with strong dancing and vocals. Megahed poured the essence of her character Tracy into all of her lines and songs. Harrison de Wolfe, who played the suave Link Larkin and develops a romance with Tracy, executed his choreography exactly and charmed the audience with his smooth voice, exhibiting a wide vocal range in the songs "It Takes Two" and "Without Love." Karin Hoelzl, cast as Tracy's adversary Amber Von Tussle, nailed her vocals and acted with the intensity and exasperation of Amber's character.
Tracy's parents Wilbur and Edna Turnblad, played by Arthur Payne and Jacob Kemp, displayed chemistry and captivated the audience with their cute song "You're Timeless To Me." Kemp, who played the traditional drag role of Edna, embodied Edna's protective and comical personality. Maddy Murphy-Neilson played the innocent Penny Pingleton, stunning the audience with her melodious solos and delivered lines with explicit comedic timing. Although the ensemble's energy dropped low at times and some of the group choreography was not executed at the same time, the ensemble kept the show going no matter what and showcased their best dancers, especially during the second act.
Generally, the props, makeup, hairstyles, and costumes fit the styles of the '60s and helped transport the audience to Baltimore at that time. Set changes were efficient and effective. The voices of all of the actors with microphones were audible. Lighting was simple yet sufficient. The band added energy to the show and played each piece with precision.
The combined efforts of South Lakes High School's cast, crew, and band gave the audience a warm "Welcome To The '60s!"