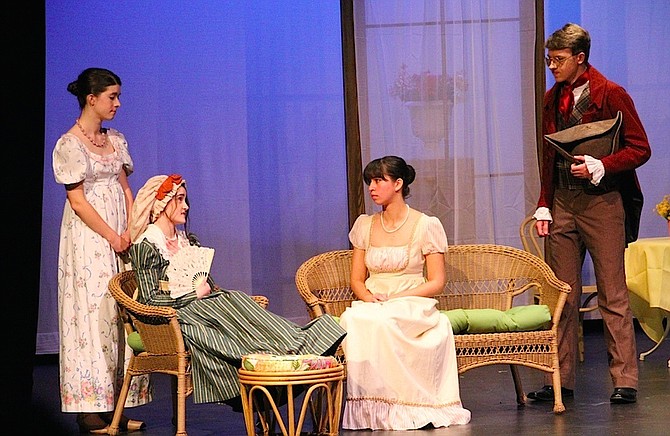 It's a simple story: boy meets girl. But when this rude boy tries proposing to the proud girl, he's refused. He tries again after many trials between them, and is finally accepted! In any other author's hands, this plot would be trite. But Jane Austen's "Pride and Prejudice" is an enduring story showing how first impressions aren't all that they seem. Adapted for the stage by Paula K. Parker, Flint Hill School's production of "Pride and Prejudice" included chemistry in all its relationships, and was filled with actors' unique takes on familiar roles.
The story tells of the Bennet family: five unmarried daughters, a matchmaking mother, and a put-upon father. When Mr. Darcy and his friend, both rich, eligible young men, move next door, Mrs. Bennet foresees marriages in the future. But Mr. Darcy is proud, and the Bennet's second daughter, Elizabeth, is prejudiced. A romance between the two seems impossible.
Flint Hill's production of "Pride and Prejudice" was steeped in the tradition of Austen's novel. The costumed stage crew smoothly conducted transitions between scenes. Actors consistently stayed in character, including those in the background, and a standout the entire play was the Bennet household. Family members played off of each other in distinct ways, and each character was a fully fleshed out person with an unmistakable personality and manner.
Two scenes in the second act truly represented the growing attraction between Elizabeth (Alexandra Wai) and Mr. Darcy (George Moacdieh). The first scene was the opening of the second act. With two spotlights trained on them, Wai and Moacdieh stood on opposite ends of the stage, taking turns narrating a letter from Mr. Darcy to Elizabeth describing a past misunderstanding. The subtlety of Wai and Moacdieh's growing emotions stood out on the bare stage, distinctly changing their character arcs for the second act. The second scene was at Pemberley, Mr. Darcy's estate. Elizabeth visited the house with her aunt and uncle, thinking that Mr. Darcy was away, and when he returned suddenly, Wai's flustered manner and confused feelings interacted well with the genteel and now welcoming Moacdieh.
Another relationship presented well was Mr. and Mrs. Bennet's, with a close connection seemingly developed over 25 years of marriage. Mr. Bennet (Thomas Norberg) brought to the role of the father a polished speaking style that could rise to high emotion when needed. Mrs. Bennet (Hannah Khan) had consistent energy in the role of annoying mother, balancing the restrained Norberg. A standout performance was Caroline Bingley (Ansley Bryan) who had chemistry with all the characters that she interacted with, even in the background. Although transitions were sometimes as long as the scenes, changes were conducted in a smooth manner. Some actors spoke quickly, making them hard to understand, but all actors were consistent and unique characters.
This production of "Pride and Prejudice" had a distinct way of changing scenes. The backlit stage would put costumed crew members in silhouette, making the movement of numerous props fun to watch. The many scene changes were handled well, with clean movements and no fuss.
Although it seems to be a simple story, Flint Hill School's "Pride and Prejudice" showed audiences that disagreeable first impressions could be removed by a second chance. And that's a message that still applies today.