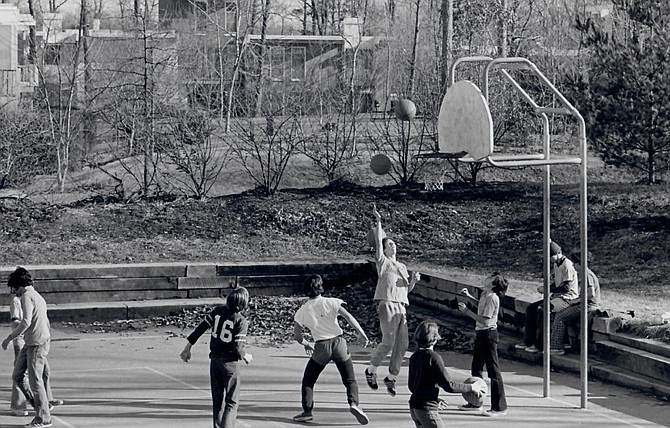 The Reston Historic Trust & Museum hosted "The History of Reston Sports, Pioneers, Players and Playing Fields" on Thursday, Nov. 8 at 7 p.m. at the YMCA on Sunset Hills Road. Bill Bouie led the presentation. A noted sportsperson in his own right, Bouie served in various community athletic organizations including Reston Little League, Reston Youth Baseball, Reston's YMCA Board of Management, the United States Olympic Committee's Project Gold and others.
During his slide presentation, Bouie referenced Bob Simon's Vision of the New Town, that in the creation of Reston, the widest choice of opportunities available was the goal. He told how in the beginning everyone got to play. There was swimming, biking, softball. Reston Youth baseball and basketball flourished. A lot of positive things came out Reston Youth basketball beyond benefits for the children, such as reversible jerseys, county funds to support scholarships for low-income families and League money to install glass backboards, Bouie said.
In the early 80s, tennis was wildly popular, Bouie said. RA offered one of the most extensive tennis programs in the Washington D.C. region. One of the most fantastic triathlons is Amy's Amigos Be AMYazing youth triathlon. It has raised over $75,000 for Childhood Brain Tumor Foundation since the race was founded in 2011. Another amazing happening is the Skate Park located within the confines of Lake Fairfax Park.
Bouie touched on some of the major sports controversies in Reston, lights at Stratton Woods Park, the elimination of the Reston Racquet Club and of course, "A Tale of Two Golf Courses." Hidden Creek Country Club is a private club with its membership dropping. Reston National is a public course "stable and profitable in a tough market," said Bouie.
What's Next? Bouie outlined the potential of a major wellness center in Reston Town Center North, implementation of the Final Master Plan at Lake Fairfax, restoring middle school sports in Reston.
Finally, Bouie listed Bill Bouie's Top Reston Athletes:
Grant Hill, Alan Webb, Coach Christy Winters Scott, Eddie Royal, Brandon Guyer, Maame Biney, Michael Derek Jackson, Wyatt Toregas, Chris Royal, Joey Beard.