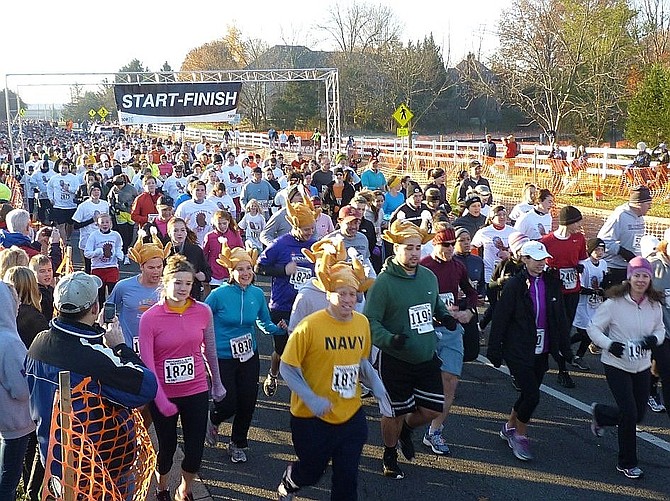 When it comes to Thanksgiving, most people think about turkey, stuffing, college football and gathering with family and friends. But in Centreville's Virginia Run community, it's just not Thanksgiving without the annual Turkey Trot.
And this year's event is even more special than usual because it's the 30th annual. Slated for Thursday, Nov. 22, both the USATF-certified 5K race and 2K walk will begin at 8 a.m. at the Virginia Run Community Center. It's at 15355 Wetherburn Court, off Route 29 and Pleasant Valley Road, and the course runs through the Virginia Run community.
"It's a fun, family tradition for so many people in the area, and for their relatives visiting from elsewhere," said event Chairman Meghan Logan. "They come from England, California, Maine – literally, every corner of the country is represented. More importantly, the race is dedicated to all those fighting cancer, and all the proceeds benefit Inova's Hospital's Life with Cancer."
That's the educational and emotional support program of the Inova Schar Cancer Institute. This program creates a supportive community for children, teens and adult patients and survivors — and their loved ones — via a variety of programs and services.
They include educational, fitness and stress-reduction classes, as well as counseling and support groups. Regardless of where someone lives or receives treatment, these programs are offered free of charge.
"It's an unfortunate reality that everyone is going to eventually be touched by cancer in some way, whether it be a loved one, friend or co-worker," said Logan, whose father Steve died of the disease in 2016. "And the services Life with Cancer offers are an invaluable resource to the community. You don't realize how much they're needed until you're in that position."
Over the years, the Virginia Run Turkey Trot has contributed some $1.3 million to Life with Cancer. Last year, it raised $80,000 for the organization, and Logan hopes to duplicate that effort this time.
About 3,700 people participated in the 2017 Turkey Trot, and more than 2,000 have already signed up for this year's race. It takes place rain, shine or snow, and there is no race-day registration for the run. Registration in the 5K is limited to the first 4,000 entries. Dogs and strollers aren't permitted in the 5K, but they're welcome in the untimed 2K walk.
For information about entry fees, individual and team registration, volunteer opportunities, packet pick-up, nonprofit charitable contributions and contacts, go to www.vrturkeytrot.com. Or see the Facebook page at www.facebook.com/VirginiaRunTurkeyTrot.
The link to the race results will be posted on the event website by the following day. Parking will be available at Centreville Baptist Church, Centreville Presbyterian Church, Bull Run Elementary and Korean Central Presbyterian Church (KCPC), all off Route 29.
Individual prizes are awarded to the two fastest males and females overall and in the Virginia Run residents' category. The top two runners in various age categories receive prizes, too. And for the second year, there's also a team category for groups of families, friends, local businesses, etc., averaging individuals' race times to compete against other teams.
"We had so many teams, last year – 50 – I was shocked," said Logan. "Some even made their own, cute T-shirts, and they all had so much fun." The winning team takes home a Golden Turkey trophy, plus bragging rights.
All registrants receive commemorative T-shirts custom-designed by Centreville artist and comic-book illustrator Rich Seetoo. This year's shirt will be long-sleeved for adults and short-sleeved for children. It'll be white with a design celebrating the accomplishment of 30 years of Turkey Trot. Said Logan: "The recipients will be nicely surprised when they see it."
The primary event sponsors are American Windows & Siding of Virginia, Ourisman Chantilly Toyota, Korean Central Presbyterian Church, Skyline Insurance Agency, Edelman Financial Services, InCadence Strategic Solutions, Inova Schar Cancer Institute, Deltek, VCA Centreville Animal Hospital and Elluminates Software.
The 12-person race committee has been busy planning the race since January. "We never stop," said Logan. "We have the same committee, and we're just so glad to have such a dedicated group of people who do this, year after year. Some people have been on the committee all 30 years, since the original run."
"We really couldn't do it without them," she added. But more volunteers are still needed on race day, starting at 6 a.m., with set-up. To lend a hand, contact Helaine Newman at helainesells@gmail.com or just show up.
This is Logan's third year as chairman and, she said, "I love working with the people on the committee and being able to be part of this event. I believe in Life with Cancer's mission, and I'm so glad I'm able to contribute to it."