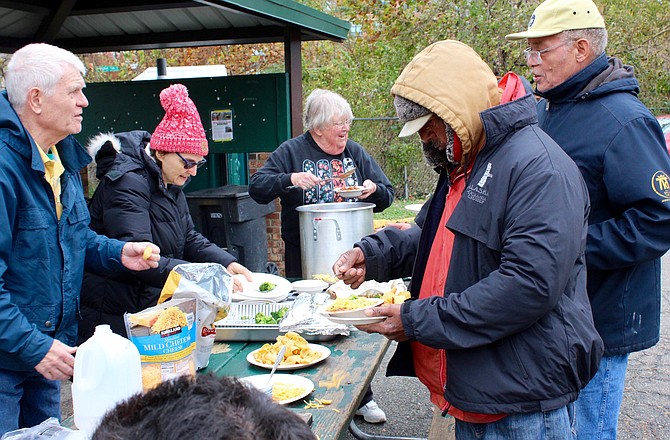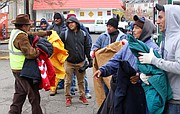 Shirlington Employment and Education Center (SEEC) workers received an extra treat on Tuesday, Nov. 13 when Rock Spring United Church of Christ (UCC) supplemented its regular bimonthly lunches with warm winter coats.
Twenty SEEC workers lined up on a blustery rainy day to get a bowl of Margaret Miller's famous hot ham chili made with extra diced poblanos and jalapeños. The workers piled on tortilla chips and shredded cheese.
As one Rock Spring server said, "If we prepare it in a way that seems too hot, that's just right."
Rock Spring began collecting coats from the congregation in mid-October and will divide them between SEEC workers and the Culmore area where there is also need. Several years ago Rock Spring distributed blankets to SEEC workers as well as long underwear and socks, then last year they gave coats and work boots. In early December they will begin collecting funds to purchase work boots again this year.
Laura Martin, associate pastor at Rock Spring said, "We are a supporter of SEEC and believe in their mission. We want to make our congregation aware of some of the simple, profound needs that people have in this area that is so rich."
SEEC was established in 2000 to match day laborers with employers who are in need of temporary labor. It is funded by Arlington County with additional assistance from churches and other community groups as well as individuals.