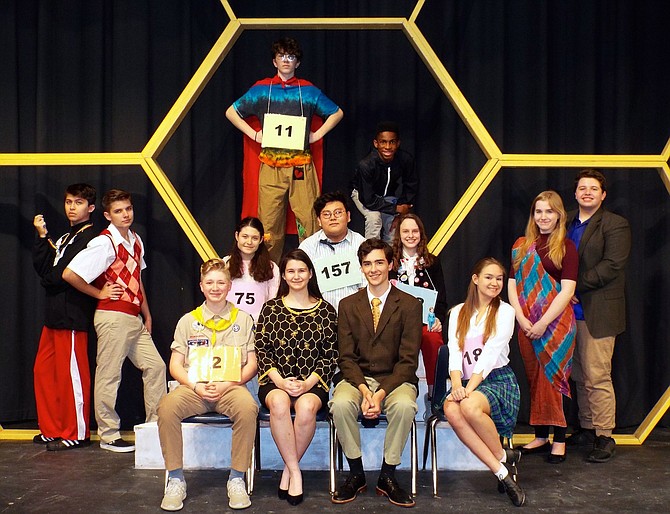 To Go
Show times are Thursday, Friday, Saturday, Nov. 29-30 and Dec. 1, at 7 p.m.; and Sunday, Dec. 2, at 2 p.m. Tickets are $10 at the door or via www.fxplayers.org. Online purchases are advised because seating will be limited to the stage only.
Two things to know about Fairfax High's upcoming play: It's a musical comedy, and the audience will be seated onstage for an up-close and intimate experience. So those wanting to attend should get their tickets quickly because seating is limited. (See the "To Go" box for details).
The story is about a group of students, ages 10-14, competing in their Midwest county's spelling bee for a chance to go to nationals. And when each character steps to the mic to spell, the audience learns about their lives, hopes, struggles and fantasies.
The show also has an improv element. Every night, four people will be picked from the audience to join the spellers onstage and actually compete until they spell a word wrong. The action takes place in a school gym, and there are no set or costume changes.
"The kids will be on bleachers, and the adults [in charge] will be sitting at a table," said Co-Director Jess Pullis. "People will come in and out of a honeycomb-shaped framework to carry out the 'bee' theme. And they have to perform onstage, the entire time, until they're eliminated for misspelling a word."
Pullis, an English teacher who studied theater in college, started the play's choreography and blocking. Then Co-Director Erich DiCenzo added to it and, said Pullis, "We've been truly working as a team."
She said attendees will enjoy themselves because the storyline is "hilarious, and it's different every night because the different audience members change the show and its energy. It also moves along quickly and is fun to watch because there's so much happening onstage. It's also short – just 90 minutes – and most of the character development is done through song.
THE CAST AND CREW of 35 has been rehearsing since the beginning of the school year, and Pullis is proud of her talented actors. "This cast is phenomenal," she said. "Most are freshmen and sophomore – we were blown away by the young talent that came into this program and wanted to feature them right away. We're very excited about this production."
Freshman Sarah Zakreski portrays Logainne Schwartzandgrubenierre. "She's a 10-year-old girl and the daughter of two, gay dads," said Zakreski. "She loves politics and has strong opinions about everything. She also has a lisp, but is friendly and really wants to win the spelling bee because she always strives to make her dads proud."
Zakreski enjoys playing her because, she said, "A little of her personality is in me. And she's a fun character because she interacts with everyone. My favorite number is 'Woe is Me,' which I sing. Logainne is singing about things that are sad, but she makes the song happy and upbeat by the way she sings it. The audience will like that this show is interactive and fun. They'll also feel connected to one of the characters and will end up cheering for them."
Playing Leaf Coneybear is junior Seth Strong. "Leaf is a 12-year-old boy with severe ADD," said Strong. "His parents are former hippies, so that affects his personality and character. His outfits are homemade, and he's pretty laid back and chill. He's kind of bullied by his family because they don't think he's smart; and because he's homeschooled, he doesn't get out much and doesn't have any friends. He was third in his district's spelling bee and is now in the county bee."
Strong likes playing Leaf because "He plays with his hair and doesn't pick up on everything. But he's so kid-like and has such a refreshing innocence to him that he's different from other characters. He's really simple."
Strong's especially likes the song, "I'm Not that Smart." He sings it and says it "deepens Leaf's character and makes him more lovable because, when you learn more about him, you feel bad for him." However, he added, "All the characters are so diverse and different that, instantly, people will have a favorite and will root for that person to win the bee. But it's not obvious who's going to win, so the audience will be on the edge of their seats, rooting."
Sophomore Brendan Smith portrays Vice Principal Douglas Panch. "He's constantly irritated," said Smith. "He was called in, at the last minute, as a word-pronouncer, so he has very little dedication to the actual bee. He gets madder and more annoyed, as time goes on. And he despises certain spellers because all their quirks annoy him to his breaking point."
Smith called Panch "probably the most fun character I've ever played because he has lots of good one-liners. His humor is really dry; he's more sarcastic than hilarious."
SMITH'S FAVORITE SONG is "The I Love You Song," sung by a speller named Olive and her parents. "It's really sweet and heartfelt and shows how proud they are of her," he explained. He said show attendees will be surprised by the audience participants, and "They'll enjoy learning about the spellers and will get really attached to the characters."
Playing Chip Tolentino, an 11-year-old Boy Scout who won the previous year's spelling bee, is sophomore John Jennings. "He's bright and energetic, a Little League pitcher and an all-American boy," said Jennings. "He's also very innocent, but he lacks patience. I love playing him because I was also a boisterous and energetic young guy. I connect with him because I played baseball until I was 14 and I was a Cub Scout. I'm also happy and upbeat, so I can portray it through him."
Jennings especially likes the number "Pandemonium." In it, he explained, "Chip and the other spellers are upset about how unfair the spelling bee seems to be. Some people are getting easier words than others. And I get to jump up on a table and belt out my part of the song."
He said the audience will love the play's comedy, inclusiveness, set, costumes and storyline. The message, said Jennings, is "Don't take anything for granted because you never know what life's going to throw at you."