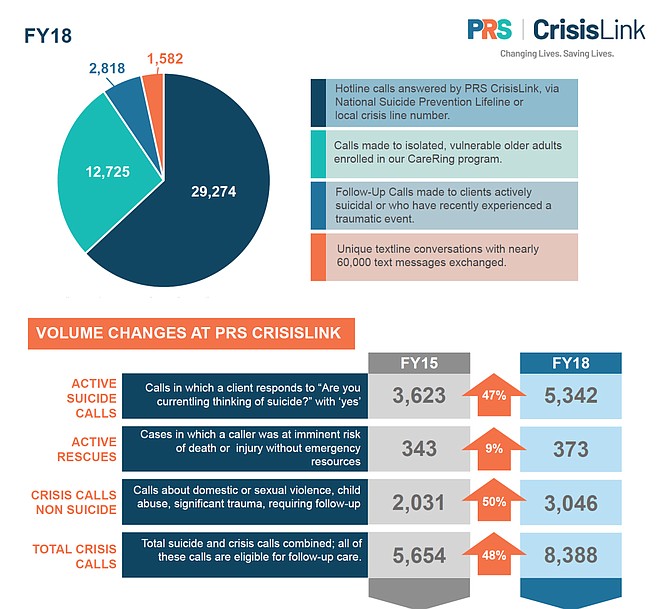 Call or text to the crisis hotline or textline: (800) 273-TALK [8255] or text "CONNECT" to 85511.
September was Suicide Prevention Month, and the Connection sponsored outreach efforts of PRS, the local nonprofit that provides CrisisLink service and trained staff to answer the "hotline" in Northern Virginia.
It's clear that demand is increasing for crisis call services, but resources are not.
When Kate Spade died of suicide on June 5 this year, and Anthony Bourdain died of suicide June 8, crisis calls spiked around the country. High profile deaths locally and of celebrities will always trigger more calls and more people seeking help.
PRS CrisisLink program handled nearly 80,000 crisis calls and text messages from the Northern Virginia region last year, said CEO Wendy Gradison, and those numbers will continue to increase with successful outreach.
PRS provides a variety of mental health services. Crisis calls and texts are answered mostly by volunteers who can respond with the empathy and understanding that someone in crisis needs right then. Answering local calls means these volunteers can connect those in need of crisis help to local resources for care. "Most of these voices are volunteers from our community — neighbors and friends — who share the gift of listening to those who hope to be heard," Gradison said.
Call or text to the crisis hotline or textline: (800) 273-TALK [8255] or text "CONNECT" to 85511.
PRS is the northern Virginia call center to respond to the National Suicide Prevention line when calls come in to 1-800-273-TALK from local area codes.
Centers like PRS CrisisLink are provided an annual stipend to provide the Lifeline and rely heavily on local government, donations and a volunteer workforce to offset the financial challenges centers face to participate in the Lifeline. If centers like PRS CrisisLink are unable to answer the calls distributed to the center from the Lifeline, a caller will wait longer and longer each time the call is queued or sent to another center, usually outside the state. When sent out of state, callers are not necessarily connected with local resources.
And the efforts to provide help in a crisis save lives. For every death, more than 275 people who attempt suicide or have thoughts of suicide survive and recover.
— Mary Kimm
mkimm@connectionnewspapers.com