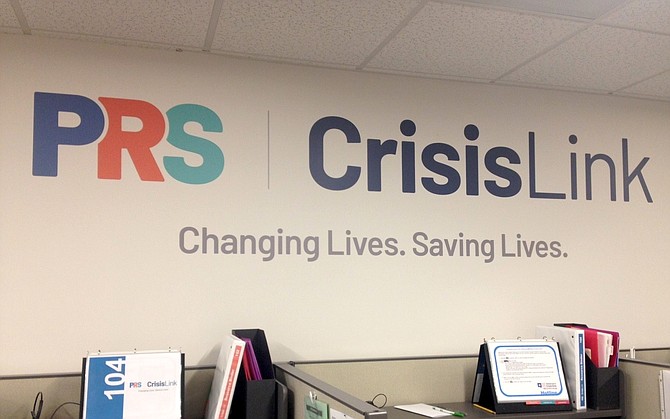 More people are calling, texting and chatting and that's good news. With greater emphasis on mental health, we are seeing an increase in the number of people reaching out for help to our local suicide prevention hotline. This is a trend that's also occurring nationwide.
While it's great that more people are seeking help, the issue is that the infrastructure and funding to support it are having a hard time keeping up with the growing demand. In fact, PRS recently received grants to serve as a national back-up center and core chat center to expand services in support of the National Suicide Prevention Lifeline network (Lifeline) to help address longer wait times nationwide as queues pile up for the hotline and chatline. Some of these calls and chats now get rerouted to PRS.
Prior to the recent expansion, PRS received a monthly average of 4,500 crisis calls through the Lifeline and local crisis number primarily from Northern Virginia. With the addition of the national hotline back-up center and chatline services, our call volume has more than doubled, and we expect the chatline to generate over 20,000 chats this year.
This is the reality as we approach September's Suicide Prevention Month. For the 5th year, we are hosting the #CallTextLive Campaign, https://prsinc.org/calltextlive/, in partnership with Connection Newspapers. The campaign engages the community by providing activities to create awareness about preventing suicide and calling the PRS CrisisLink Hotline at (800) 273-TALK [8255] and the textline by texting "CONNECT" to 85511 to receive support.
Social media is used to engage people in sharing stories and photos on PRS Facebook, Twitter and Instagram using the #CallTextLive hashtag in hopes of making it easier for people to talk about suicide.
The campaign is critically important since suicide claims the lives of more than 47,000 people annually and is the 10th leading cause of death nationwide and second leading cause for people aged 10-34. In fact, more than twice as many people die by suicide than homicide.
As we work to increase the number of individuals seeking help, we recognize that increasing our capacity to take these calls, texts and chats is essential.

We handle the national calls through federal grants, but the work we do to serve our Northern Virginia community is supported through local funding sources and the generosity of individuals like you. That's why the campaign encourages people to crowdsource to support the PRS CrisisLink center.
Volunteering to cover a weekly shift on the hotline or chatline, donating to support the overall operating expenses of this life-saving work or sharing our information across social media saves lives in our communities.
Crisis intervention and suicide prevention services work. For every death, 278 people manage to move past thoughts of suicide and survive. Join PRS this September as we encourage our community to make the call, send the text and live through their thoughts of suicide.