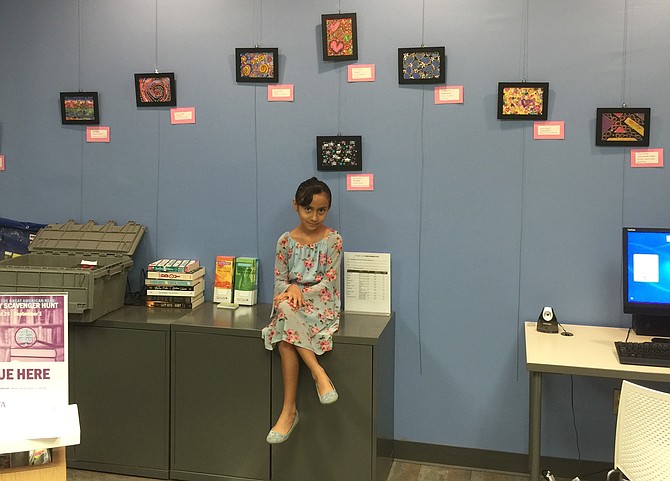 Eight-year-old artist Noura Barka loves to draw people's faces, and she particularly enjoys drawing eyes.
"I like all kinds of art; I don't really have a favorite medium," Barka, whose first art exhibit is currently on display at Arlington's Connection: Crystal City Satellite Library, said. "Right now, I draw a lot of faces, and my goal is to get really good at painting eyes."
All you need is a pair of eyes to enjoy Barka's ongoing exhibit, which includes 10 pieces of varying mediums, available to the public for free through the end of November. All of Barka's works on display are in keeping with the theme, "Kiss the Dream and Smile."
"That's what I named the show because I found some beads in a box and rearranged the words to say 'Kiss the Dream and Smile,'" the young artist said. "Then I gave each painting a title related to it, like, 'Fantasy,' 'Hope,' 'Imagination,' 'Moonlight,' and 'Rainbow Pollock.'"
Although Barka is only in the third grade, she can't remember life without art.
"I always saw my mom painting when I was little," Barka said. "Then, when I was three, I wanted to start painting, so my mom taught me. "My mom started me with crayons, and then I started doing acrylics and tempera and, then this year I started watercolors. I kept practicing and practicing. The thing that I used to draw most was actually my mom, wearing a bun in her hair. Then, I branched out and I started drawing designs like my mom did — patterns and other more abstract things. I always wanted to paint just like my mom."
The apple doesn't fall far from the tree with Noura Barka and her mother, Sonia Campos.
"Her work actually does look a lot like mine," Campos said. "I used to paint a lot, when I lived in Japan, before I met my husband or had kids — Noura and her brother, my son, Sami. I would have art exhibits and shows, where I sold a lot of my art. It's hard to pursue art like that with kids, though."
Despite not being able to paint to the degree she did in a previous life, Campos was determined to introduce creative endeavors to her children.
"I always wanted to expose my kids to art," Campos said. "As soon as they were capable, we started doing little things together: making holiday greeting cards to send to friends and family, we'd make shadow boxes, and more. We've always been an artistically inclined family. My son and daughter would both paint with me, but, Noura was always the more curious and enthusiastic one with wanting to do arts and crafts."
One day last summer, Campos saw an amateur artist's work on display at her local library, and she immediately thought of her ambitious, artistic daughter.
"I just so happened to walk in the library, and I asked if the artist's age mattered when it came to the displays," Campos said. "They said 'no,' and Noura was of course interested. Throughout the summer, I had her paint on different canvases. She was so enthusiastic about doing it — it wasn't a chore to her. People think it's this amazing thing because of her age, but it was really so simple to put together. She had big ideas for each of the pieces and the title to give the collection as a whole."
So, they submitted Barka's exhibit for consideration, and she soon became the youngest artist, at least in recent memory, to have her work showcased at the Connection Crystal City Satellite Library.
The opening reception for "Kiss the Dream and Smile," took place on Sept. 8 and Barka kicked off this exhibit with a few words of her own.

"I was a little bit nervous," Barka said, "but it was worth it. I want to do more art shows, too. We go back to the library to look at my exhibit several times a week."
The exhibit launch was also an event that Campos will never forget.
"It was the first time there had been an opening reception," Campos said. "Twenty-five people were there — teachers, family, friends. Noura talked a lot about her art, and it may have been more exciting for me and my husband than it was for her. We are really proud of her."
Already a renaissance woman, Barka is also a ballet dancer and a Girl Scout. As life gets busier for her the way it inevitably will, she said she'll always make time for art.
"I take a clipboard with me to recess a lot because my friends always want me to paint pictures of their faces," Barka said. "I use my watercolor pencils, and I give them the option for having winking eyes, both eyes closed, or both eyes opened in the pictures. Once I can paint people's faces realistically, I want to publish a book. I'm auditioning for the Nutcracker ballet soon, but, I'll still be doing lots of art projects all the time."