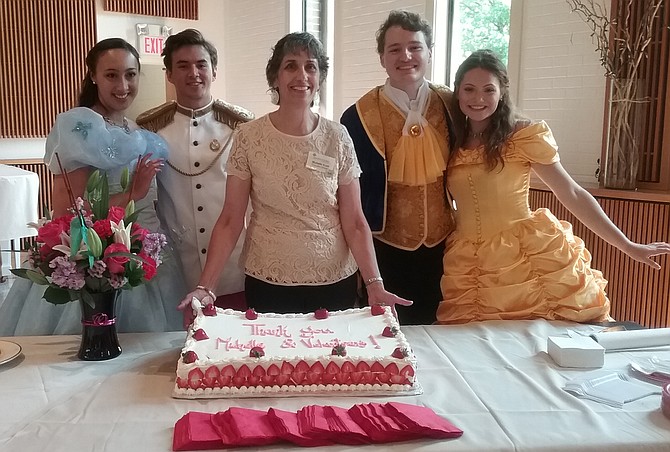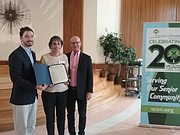 The Shepherd's Center of Oakton-Vienna (SCOV) recently hosted their annual Volunteer Appreciation Luncheon at St. Mark Catholic Church, where SCOV had the opportunity to thank the many volunteers that play a significant part in the success of the charity's mission.
The event was supported, in part, by Brightview Senior Living/Great Falls.
The SCOV Pin Award for outstanding service was presented to volunteers Leigh Banducci; Bill Grove; Mary Harrigan; Marta Linares; Scott Schroth; Ann Streb, and Jayne Young. In addition, SCOV chose this opportunity to recognize the continued support of Del. Mark Keam by presenting him with the SCOV Certificate of Appreciation.
Founded in 1998, and celebrating its 20th anniversary this year, the Shepherd's Center of Oakton-Vienna is a volunteer-based nonprofit organization dedicated to providing opportunities for adults (50+) to seek rewarding lives and to live independently in their homes for as long as possible. The approach employed by the agency also allows for mature adults to volunteer their time providing vital services to the more vulnerable seniors needing assistance.
As the country's population is living longer and oftentimes isolated from family support, "aging in place" becomes a challenge. The concept of "Seniors Helping Seniors" truly defines the spirit and purpose of the Shepherd's Center of Oakton-Vienna. Their personal enrichment and volunteer opportunities reaches more than 3,000 older adults (50+) in the region.
Each year more than 250 volunteers at SCOV serve as medical drivers, companion drivers, friendly callers and visitors, health and wellness educators, office assistants, fundraisers, and grant writers. Volunteers also run programs such as SCOV's Lunch n' Life, Adventures in Learning, trips and outings, special events, and the caregivers' support group.

SCOV will be hosting their 20th Anniversary Gala on Sunday Oct. 21, at the Westwood Country Club in Vienna. Tickets and details about the event can be found at http://www.scov.org/fundraiser-anniversary-gala.