Springfield — Honest Soul Yoga is opening a new location in Old Keene Mill Shopping Center this month, offering yoga classes of all levels with the energy and spirit that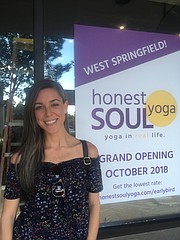 has made their original location in the Kingstowne area such a hit. The classes are full, and the upbeat attitude is apparent on the smiling faces at Honest Soul.
Their slogan is "Yoga In Real Life," and this is in touch with the busy schedules that plague the area. Suzie Mills, the Honest Soul founder and CEO thinks the clientele in Springfield is ready for their level of yoga. "The people that typically enjoy Honest Soul Yoga are those that are looking for yoga on and off the mat. They are looking for community, a place to plug in, a place that holds them accountable to be kind and thoughtful humans, and of course a place that offers a physical practice that shifts their energy so that the rest of the day feels lighter and brighter," Mills said.
THE NEW STUDIO is in the corner right next to the Whole Foods in West Springfield. The lobby will have a check-in desk and yoga-wear for sale, as well as crystals, mats, bolsters and blocks – all things yoga. The main studio occupies the rear of the space, along with dressing rooms. Both men and women take classes at Honest Soul.
One special feature at the Springfield studio will be a custom mural painted by local mural artist Jean Marie Thalhammer. "It's magical with an outer space theme," said Julia Lopez, Honest Soul co-owner with Mills. "It's nice to be working with a local artist," she said. Thalhammer was behind a notable mural called "LOVE," and her works use symbolism, color and shape to explore interconnectivity, raise consciousness and communicate uplifting messages, which is right in line with the feeling at Honest Soul.
Bailey Knesley will manage the new studio, and she got hooked by Honest Soul after giving birth to her daughter and suffering from postpartum anxiety. She didn't want to take medicine for it, so she looked to yoga and it "definitely helped." Next thing she knew, she was taking more classes at Honest Soul, and then their teacher-training program and got certified to teach. Knesley has seen others start off like that, and eventually being regulars at Honest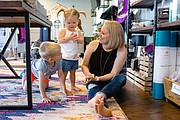 Soul. "It's special that way," she said, "it's so genuine, it lets the authentic 'self' come out."
Knesley grew up in the Chicago area and earned a degree in health studies from Eastern Illinois University, and then her masters in child psychology. She's seen the benefit she got from yoga and hopes to convey that spirit to others at her new place. "Honest Soul Yoga recognizes that the mind, body and spirit need a combination of challenge and rest throughout the week, and at HSY you can find a class that meets your energetic need - from low key to high energy - any day of the week," she said.
AT HONEST SOUL, the "Honest" classes are the most popular, and this combines traditional poses such as the downward facing dog, warriors I, II and III, the plank, the lizard, goddess, and more. For resting, there's always the child pose, which the instructors encourage for those needing a rest. Other classes include "Gentle," "Restore," and "Yin."
In Springfield, "we are launching this studio with a very special program called 'Mindful Moving Kids' which is a yoga series for elementary school age kiddos who learn better in smaller group settings," said Knesley. It is led by a Yoga Teacher and School Psychologist, Beth Hardy, and another program is a weekly Family Yoga led by a Yoga Teacher and Early Childhood Education School Teacher, Karen Hamilton. "Those two women are just amazing," Knesley
Where
Honest Soul Yoga Springfield is located at 8404 Old Keene Mill Road,
West Springfield, 571-969-6421.
said.
The weekend of Oct. 20-21 will be the grand opening, with free classes all week. Another Honest Soul location is opening in the Tysons Corner-Falls Church area on Nov. 17. "For me personally, this seems like the perfect time to open not just one, but two more locations," Mills said.