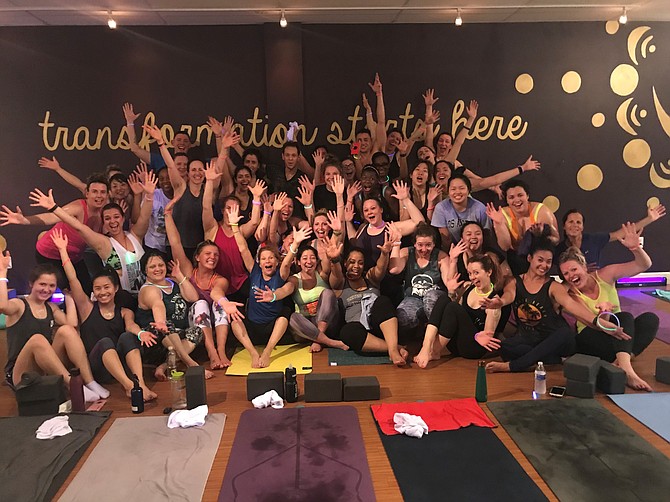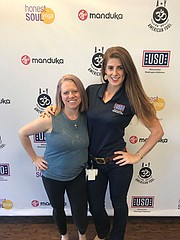 When 12 yogis showed up at the Honest Soul Studio for the 3 a.m. class early Saturday morning, May 26, owner Suzie Mills knew the "Yogathon," she carried out to raise funds for veterans, had more meaning for her studio outside Fort Belvoir. The 24-hour yoga extravaganza on Memorial Day weekend was a fundraiser for the USO at the base, and Mills has experienced how yoga chases away emotions that come with military experience in a war zone, and possibly Posttraumatic stress disorder (PTSD).
"We provide yoga for the warrior transition unit through the USO," Mills said. "I had one person that said yoga has saved him," she added.
"Proceeds from the event will support the purchase of equipment for yoga and recreation programs for families served by the USO of Metropolitan Washington – Baltimore (USO-Metro)," their website read.
Casey Pizzuto, the center manager at the USO Warrior and Family Center-Belvoir, praised the value of yoga to deal with the stress of a combat situation.
"Yoga has a major impact on our service members, especially for those who have an injury and need to find alternative stress relievers," she said, via email. "I have witnessed transformations in our service members receiving yoga, especially the service members receiving treatment for PTSD."
AT THE YOGATHON, there were classes all night with very little down time between sessions. The classes were held in one room at Honest Soul called the "transformation" room, and the other room, known as the "love" room was set up as a community room where practitioners could gather, share ideas about the effort or just meditate. The names of these two rooms are painted on the wall in artsy letters to give yogis inspiration. A couple of cots were set up in the love room for catching a few winks of sleep too.
The more notable of classes that night included "Rock Your Asana – Glow Flow" with a black light and neon props at 11 p.m.; "Pajama Yin to Restore," at 12:30 a.m., "Sunrise Yin," at 6:30 a.m., and everyone wrapped up the night with a celebration party at 9:30 a.m.
The tables out in the living room/lobby were covered with fruit and wholesome snacks. Many local businesses helped out with contributions too, and that list included Nalls Produce, Kingstowne Family Chiropractic, Vetoga of Washington, D.C., Century 21 Redwood Realty, Walking the Dogs, Manduka, American Yogi, Clear Shark, M&M Contracting Solutions and the husband and wife photography team of Mauricio and Ximena.
Samantha Simons took part in the yogathon and escaped to the love room when she wasn't practicing yoga or helping conduct the events that night. "It's a place where people could find a thread," she said of the love room. "Everyone just relaxed."
Mills wasn't always a yoga enthusiast and found her calling to open Honest Soul while she was in the Air Force on duty in Bagram, Afghanistan on a five-month deployment. Her job was to help out on the runways with the troops and equipment coming in and out of the combat zone, and with all the noise during her shifts from 2 p.m. to 2 a.m. each day took its toll. "I was at a constant high stress environment, yoga brought me down," she said. When she returned to the states, she took a power yoga class for the first time and found it helped manage her experiences. That's the moment she decided to open a studio.
ON SATURDAY MORNING, May 26, as the 24 hours came to a close, the Honest Soul yogis looked at the money raised with open eyes, and the $10,000 exceeded their goal. The money will be used for additional veteran causes at Honest Soul and at the USO Metro center on Fort Belvoir. "We're going to use USO channels to send these props," said Mills, pointing to a stack of mats and bolsters in the main room at Honest Soul.
Mills is working on a program to help the spouses of soldiers transferred to Fort Belvoir, and she's set her sites on opening another studio in West Springfield next to the Whole Foods at Old Keene Mill and Rolling Roads.
At Honest Soul, "we're making you feel like you are part of the family," Mills said.