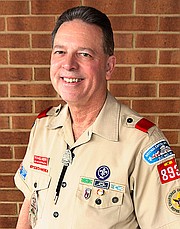 The Western Fairfax Christian Ministries Annual Fellowship Dinner will be held Friday, Oct. 12, from 6-9 p.m., at the Westfields Marriott in Chantilly. WFCM provides life-essential services to those in need in western Fairfax County, and this dinner celebrates the collaboration it and the local community.
Guest speaker is four-time Pro Bowler Ken Harvey, a former outside linebacker with the Washington Redskins. Entertainment will be provided by the Potomac Harmony Chorus. This award-winning, 50-singer, a cappella barbershop ensemble is comprised of women from all over the Washington, D.C., Metro area.
The emcee is NBC News correspondent Tracie Potts. And the event's honoree will be Michael Adere for his work with the Sully District Scouting for Food program.
"Michael has been active in Centreville for over 25 years," said WFCM Executive Director Rebecca Kolowé. "His unselfish giving of his time has touched the lives of hundreds of youth in the community. From school field trips, chaperone and booster with the Centreville High choral program, coaching youth sports, active participation in his church, Board of Trustees of his homeowners association to his above-the-normal call to duty with the Boy Scouts, Michael is the 'Energizer Bunny' that keeps all who know him upbeat and motivated to join in and help out."
"Michael is the Scouting for Food guru for Sully District and WFCM, working tirelessly for weeks in advance of bag drop-off and food pick-up weekends," she continued. "He's currently in his 14th year as Sully District Scouting for Food chairman and is already working on logistics for this year's food drive in early November. Over the past 13 years, WFCM has received more than 630,000 pounds of food from this effort."
To attend the dinner, go to http://wfcmva.org/2018-dinner/ and click on "Join Us." Tickets are $125/person and help support the work WFCM does to help those in need in the community.