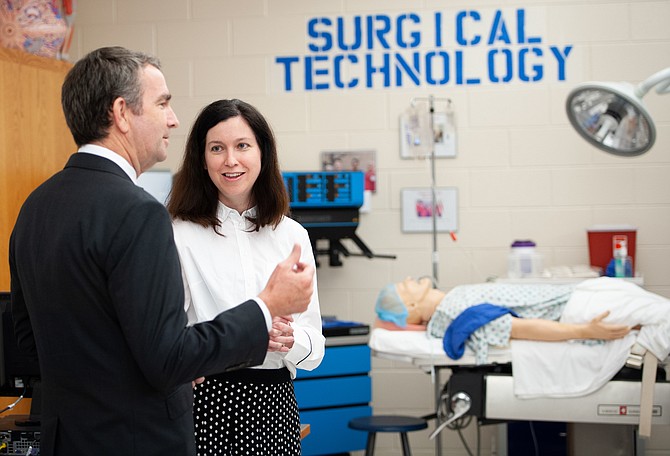 Gov. Ralph Northam (D) joined students, parents and officials at T.C. Williams High School on Friday, Oct. 5, to celebrate the launch of the Governor's Health Sciences Academy.
The academy, which the state Board of Education approved earlier this summer, enables students to earn up to 18 college credits from the George Washington School of Medicine and Health Sciences before they graduate. The program can reduce the time and money needed to graduate from college.
The first cohort of 100 students can choose from seven career pathways: biomedical informatics, emergency medical services, medical laboratory sciences, nursing, pharmacy, sports medicine and surgical technology. Following graduation, students can move into entry-level health careers; matriculate into a community college and attain an associate's degree; transfer to the GW School of Medicine and Health Sciences through a guaranteed admissions agreement with college credits toward earning a bachelor's degree; or enter a bachelor-completion program at GW in partnership with select community colleges in Virginia and Maryland.
According to the Virginia Labor Market Information projections, health care practitioners and technical occupations will increase by more than 18 percent by 2024. Regional workforce data shows an expected 30 percent growth by 2020. The U.S. Bureau of Labor Statistics estimates an 18 percent growth in health care careers nationwide through 2026.
Northam met teachers and officials who helped establish the partnership and develop the curriculum. He addressed the students about the relevancy of their chosen pathway before cutting a ribbon to celebrate the opening of the new program.
For more, visit www.acps.k12.va.us/healthsciences.