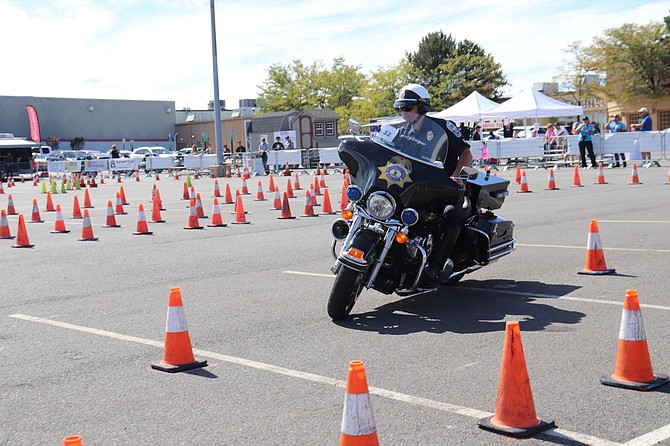 The Herndon Police Department competed in the 40th Annual Mid-Atlantic Police Motorcycle Rodeo held Sept. 26-29 at Potomac Mills, Woodbridge. Sgt. Bobby Galpin and Cpl. Chad Findley participated in the high-end riding challenges, steering their bikes through tight courses of orange cones, maneuvering sharply around curves and balancing through close passages.
While the rodeo was open to the public to watch and provided a networking avenue for the officers, ultimately the event provided training to survive. The first two days of the rodeo demonstrated new techniques to use on the job, increasing the skills of individual officers and the safe operation of police motorcycles.
The training/competition drew 100 motorcycle officers from Canada to Florida and put their riding skills to the test according to Lisa Herndon, public information specialist Herndon Police Department.
One of the biggest winners at the rodeo was Sgt. Bobby Galpin, of the Herndon Police Department, Herndon said. "Galpin won 1st Place in the Timed Cone Course, 2nd Place Overall Award in Expert Division and 3rd Place in Individual Slow Ride."
Cpl. Chad Findley HPD also competed in the rodeo. "I had a lot of fun participating in this year's event, and it allowed me to push myself to become a better rider," Findley wrote in an email after the event.
Proceeds from the event and its raffles benefitted Serve Our Willing Warriors, a non-profit organization created to support the United States wounded soldiers and their families.