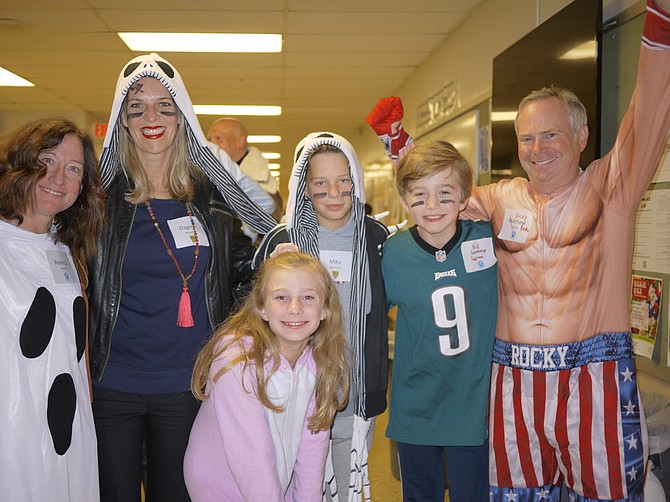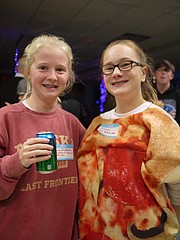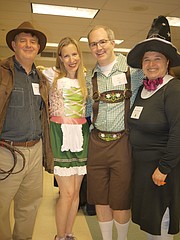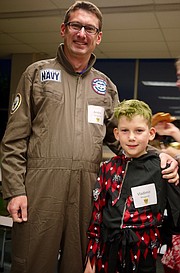 Dagmar Heinrich said the thing that amazed her most about the recent exchange was the strong connection between the children — they hadn't met before this week — and how well they spoke English together. She laughed, "They speak English even better as soon as we leave the room."
Rebecca Keiser and her husband Matthew and their children, Sammy and Sydney, hosted the mother and son. "We wanted to host because we wanted to expose Sydney and Sammy to other cultures and we love Germany and would like to do an exchange over there too."
The Halloween party at Williamsburg Middle School was the final event in an exchange between students from Aachen, Germany, and Arlington. The exchange was the largest ever, with 55 Arlington families paired with 55 Aachen families. They enjoyed a week full of activities including meals together at home and experiencing everyday life, shopping American-style, visiting monuments and museums, participating in local sports and watching regional pro teams.
Ella King was happy to find out that her exchange guest takes Latin which she also takes. Why does she take Latin? "It's the only language I can take," she said, "because it's written, not spoken." It's not because she has a terrible ear for languages; it's because she has limited hearing and it is really hard for her to learn to speak and hear a foreign language even though she would like to very much. This hasn't kept her from enjoying the exchange and profiting from learning other cultures.
"My sister took German." said her friend Alison Kinzer, "even though she couldn't take it for that long because it wasn't available." As a result of that German, Kinzer said, "She was amazed at how well she could communicate with our German guest."
Heidi Addison, who had come to the U.S. as a youngster before such an exchange opened up Arlington youth to other cultures, said she had endured a lot of stereotyping from local students back then who asked her if she was a Nazi and related to Adolf Hitler. "That's why I've been a volunteer for this organization for over 16 years," she said.
What were the things people learned about each other that really stood out? "I learned that corn is a pizza topping!" said Anne Ladewig. "We like to make homemade pizzas and we were asking the kids what they wanted on their pizza as a topping and our exchange student said, 'corn.' Who knew? And I learned how to say 'Wo ist mein handy'," she added. (Handy is German slang for a cell phone.) Everyone agreed they would all be calling a phone a handy from now on.
Bernadette Grune-Glattke, decked out in a witch's hat, said, "I learned how welcome we could feel in a foreign country: we feel we are at home here like in Europe."
Andre Weigandt, attired in his Top Gun flight suit, said he had been a student at UCLA Davis for a year, 20 years ago. That made him a believer in exchanges and language learning. His excellent English came out of that year in the U.S. and subsequent use of English in his business. He noted he had brought his son, Vladimir, because "It's important to learn history in a way that isn't just dates. The best thing about this exchange was living the everyday routine with our U.S. hosts. We sat around discussing parenting issues, and found a lot of common ground, and my son got to attend school which was very good. We noticed they don't have too many breaks here! They just go from class to class with hardly a pause. That made an impression."
For more information, or to get involved, see the Arlington-Aachen facebook page.