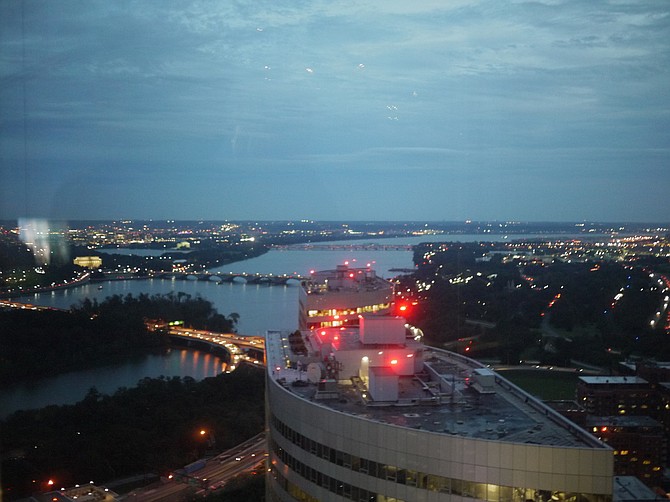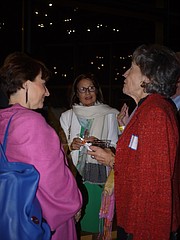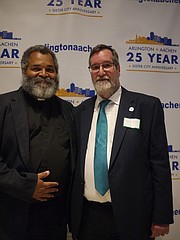 Well-rounded. Literally. The Arlington Sister Cities Association feted 25 years of association with the German city of Aachen on the round observation deck of the CEB building in Rosslyn last Monday evening. It is Rosslyn's answer to the Kennedy Center roof terrace, a circular tour of the sights, free to Arlington residents. It was a perfect way to celebrate two growing cities about 4,000 miles (or 6,345 kilometers) apart.
Arlington Sister City Association (ASCA) is a nonprofit organization affiliated with Arlington County. Established in 1993, ASCA supports and coordinates the activities of Arlington County's five sister cities, in the order in which they became sisters: Aachen, Germany; Coyoacán, México; Reims, France; San Miguel, El Salvador; and Ivano-Frankivsk, Ukraine.
ASCA works to enhance and promote the region's international profile and to foster productive exchanges in education, commerce, culture and the arts. The programs are sanctioned by Sister Cities International of Washington, D.C.
Perhaps the most important of the programs in terms of impact are the Educational and Professional Exchanges. ASCA provides educational opportunities about other cultures, people and places for Arlingtonians of all ages. Programs include internationally-themed cultural events, K-12 and post-secondary student exchange programs, professional exchange opportunities, lectures and presentations.
Reinhard Germ, an engineer in Aachen who volunteers his time and donates his airfare to participate in the sister city exchange, said the interest in Aachen in coming to Arlington for an exchange exceeds the supply of available housing. Only 55 families signed up to host a German student and their parent: he could have sent 120.
What was the most interesting thing he and his students did? "This year, " he said, "We went to South Arlington. It was really interesting to see another side of Arlington, to experience the diversity of that part of the county." The sister city members hope more awareness of the program develops at Wakefield High School; Yorktown and Washington and Lee have participated for some years.
Germ said this program involves children who are between 10 and 12 years old. They come for about a fortnight, go to school with Americans, take part in the sports activities, and see some sights. The impact on the children on both sides of the Atlantic lasts for a lifetime," he said.
Malcolm Phillips, the chair of the Arlington Sister Cities Executive Committee, said he got involved because he adopted two children from Ukraine and it opened his eyes to the need for exchanges like these. He said the original sister cities program was set up in 1956 by Dwight D. Eisenhower, in a postwar atmosphere, to encourage a connection between the U.S. and other countries, on the theory that if we know each other better at a young age, and learn languages and communicate better, we will find more in common and be less inclined to go to war.
The exchange between Aachen and Arlington is reciprocal. This week, 55 families came to the U.S. and in return, 55 Arlington families (one child and one parent) will travel to Aachen in the spring.
This was the largest ever Aachen Elementary Exchange. They enjoyed a week full of activities, including meals together at home and experiencing everyday life, shopping American-style, visiting monuments and museums, participating in local sports and watching regional pro teams.
One of the upcoming events being scheduled by the Arlington-Reims committee is a tour by the Reims' Maitrise choir, a world renowned boys choir from the Reims Cathedral. It will come to the U.S. in 2019, making a tour to several cities, including Arlington. The committee is currently looking for a venue for the concert. The "Maitrise de Reims" was founded in 1285 and has been associated with the Reims Cathedral since then. Not only does the choir sing regularly during religious services, it also plays a part in the "Night of the Cathedrals" and other festivals in France.
For more information about the sister cities, or to volunteer, see: http://arlingtonsistercities.org.