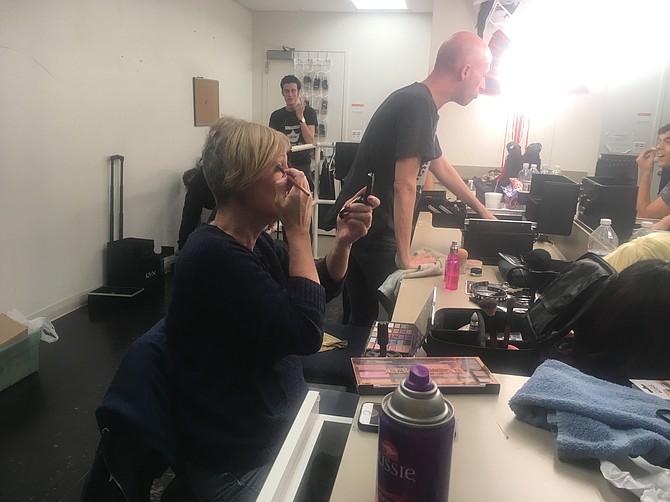 Springfield — When Casey Fero is out on stage singing "Sweet Transvestite," he gets in character to become Dr. Frank N. Furter, one of the stars in The Rocky Horror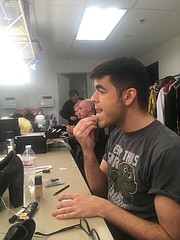 Picture Show, at the Workhouse Theater in Lorton. The Doctor is not like Fero at all, but when you're an actor, that's what you do.
"I just kind of let it all go, be that person," he said.
Fero is an actor from Fredericksburg who is part of the cast that is putting on the theatrical performance of Rocky Horror for the second run at the Workhouse Theater. He didn't have to memorize the song or the part though, he'd seen the original movie a few times and knew the part of Furter from when Tim Curry played it in 1975.
"I've been watching this movie since I was 16 so I knew it," he said.
All the cast has seen it before on the silver screen and knows the parts, but it is still fun for everyone, especially around Halloween.
"We're here to give you a good time," said Giorgio Mazzarelli, an Arlington resident that plays "Riff Raff," one of the odd characters along with Magenta, aka Mary Payne, and Dr. Scott, played by Mary's husband Michael, and others that are putting on the performance that is playing at the Workhouse for the second time.
"Live performance is something live TV just can't give you," said Mazzarelli. It's the perfect combination around October. "The closer it gets to Halloween, people want to see something crazy like that," said Payne.
The Rocky Horror Picture Show originally came out on stage in 1973 but was made into a cult classic movie in 1975 where the audience became involved. The plot is of a typical horror genre where a couple's car breaks down during the night and they go to Dr, Frank N. Furter's house to use the phone. He's a mad scientist and the musical mayhem ensues, with characters originally played by Susan Sarandon, Tim Curry and Barry Bostwick. The costumes were of
Where and When
Workhouse Arts Center 9518 Workhouse Way, Lorton
Phone: 703-584-2900, Website: workhousearts.org
Dates: Through Oct. 28, 2018
Time: Fridays and Saturdays at 8 p.m., Sundays at 5 p.m.
Tickets: $20-$35
the punk rock fashion, and several hit songs came out of it, including "Time Warp Brigade."
It became the "midnight movie," of choice in Georgetown, and did have a run at the Springfield "rocking chair," theater in the 1980s which was once across from the Springfield Plaza.
Hayfield Secondary students Sarah Sherrill, Carlee Maben and Madalyn McQuillan were at the Workhouse to see the show, and take some notes since they all are going to be on stage at Hayfield for a future showing of "American Idiot." Being right there in the small theater, "we can see how we can portray a better character," said Maben.
West Springfield graduate Clare Pfeifer is one of the stage managers and sound technicians. Although there's no dangling microphones or booms, there are challenges in the sound booth. Everyone has wireless microphones, but "one of the challenges is to make sure they have their mikes on," Pfeifer said. But it pays off in the end. "When they do well, I do well," she said.
"She's the sound goddess," added Michael Omohundro, aka Dr. Eddy Scott.
Tucked away in a few off-stage alcoves are the band, consisting of a drummer, organ and saxophone.
Through Oct. 28, 2018, Fridays and Saturdays at 8 p.m., Sundays at 5 p.m.
Tickets: $20-$35, 703-584-2900, Website: workhousearts.org