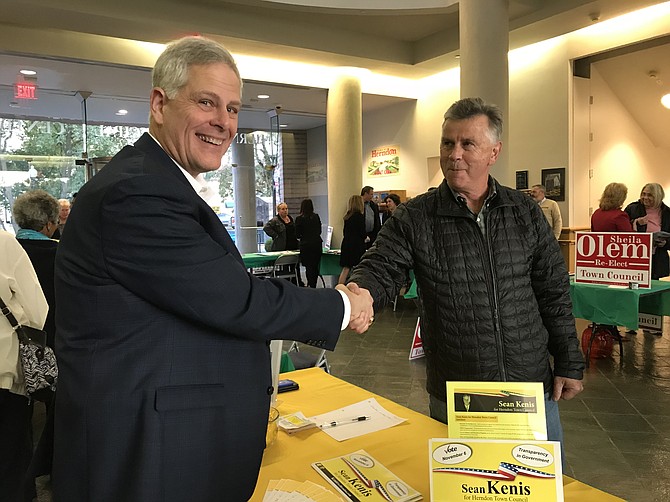 The Dulles Regional Chamber of Commerce held the Herndon Town Council Candidate Meet & Greet on Monday, Oct. 22, 2018, from 6- 8 p.m. Organizer John Boylan, President and CEO of the Dulles Chamber of Commerce said, "The Herndon Chamber of Commerce under the Dulles Chamber sponsored the event. The purpose …is to meet and greet the Herndon candidates and ask pertinent questions of their interests."
All candidates attended or sent someone to represent them. Questions ranged across the board, but many appeared to ask questions similar to those by Paul Richards of Herndon who inquired, "How are you going to spend my money? My concern Is budget, that taxes are kept low and traffic reasonable."
As for the style of the forum, Joyce Loganson said, "I would rather be sitting down and listening to questions and answers."
Voting will take place for the upcoming elections on Nov. 6, 2018. On Election Day polls are open from 6 a.m. until 7 p.m.
The ballot for Town of Herndon residents to choose Mayor and Town Council reads:
Town of Herndon (Town of Herndon ONLY)
Mayor is Lisa C. Merkel, she is unopposed;
Voters will choose six for Town Council from: Joseph T. "Joe" Plummer, Jennifer K. Baker, William "Bill" J. McKenna, Sheila A. Olem, Cesar A. Del Aguila, Signe V. Friedrichs, Grace Wolf Cunningham, Pradip Dhakal, W. J. "Sean" Kenis, Jr., and Roland Taylor.