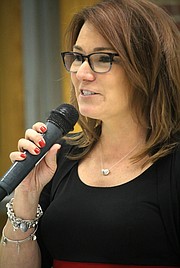 After a decade of service, Herndon Mayor Lisa Merkel announced on Jan. 2 that she would not seek re-election in 2020. First serving as Vice-Mayor from 2010-2012, then as Mayor since 2012, Merkel will step down at the conclusion of her term.
Eight years after moving to Herndon and choosing to raise her family there, Merkel decided to run for Town Council in 2010. At the time, Herndon had been in the national news over day labor and immigration issues. Merkel was concerned that those issues dominated town politics and wanted to shift the conversation towards the future Metro Station and Downtown development. She won her first race for Mayor by 38 votes in a contested three-way race, becoming the first woman elected to serve as Herndon's Mayor. Since that first election, Merkel has won three additional elections by increasing margins and was unopposed in 2018.
Throughout her tenure, Merkel has remained passionate about maintaining Herndon's small town character while capitalizing on the opportunities that being in the Dulles Technology Corridor afford the Town. Under her leadership the Herndon Metro Station area was rezoned for transit-oriented development and the first development plan was approved by the Town Council. Additionally, the town created a downtown master plan, and ultimately entered into a comprehensive agreement with Comstock Partners to build the long-awaited downtown project. Construction is set to begin in 2020.
Merkel released a video highlighting the town's progress during her tenure and thanking the residents of Herndon for making her job the best of any Mayor's, anywhere.
Merkel holds a bachelor's degree in Education from Auburn University and a master's degree in Curriculum and Instruction from Virginia Tech. She was formerly an elementary school teacher, reading specialist and staff developer with Fairfax County Public Schools and currently represents the town on the Northern Virginia Regional Commission, serves as the Town Section Chair on the Virginia Municipal League Executive Board and is a member of the Herndon Historical Society, and the Dulles Regional Chamber of Commerce. Lisa and her husband, Dave, are raising their family in a circa 1895 farmhouse in Herndon's historic downtown.