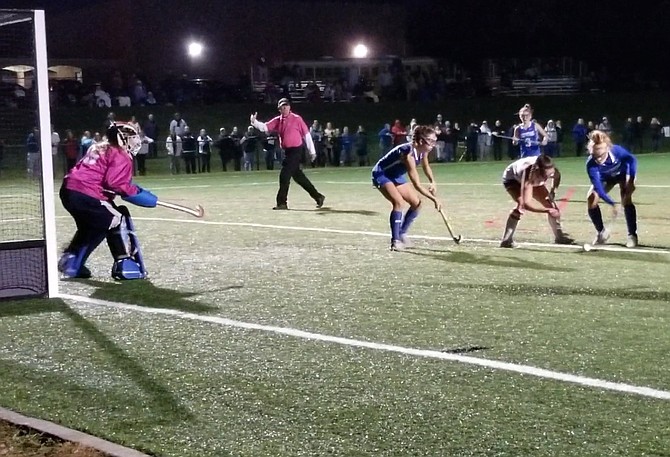 "I think knowing that we can score on them, just in general, gave us a lot of confidence that we can actually do this." —Senior Captain Gabrielle Vitali
Members of the West Potomac field hockey team entered the Gunston District tournament final confident that they could play with defending champion T.C. Williams.
When senior captain Gabrielle Vitali scored in the third minute of the Oct. 18 contest, the Wolverines believed they could win.
Vitali scored the game's lone goal with 27:40 remaining in the first half, freshman goalkeeper Jillian Ward had multiple key saves and West Potomac captured its first district championship in more than two decades with a 1-0 victory over T.C. Williams at the Minnie Howard Campus in Alexandria.
The Titans held a 10-1 advantage in penalty corners and spent much of the contest on the attack, but the Wolverines found a way to make Vitali's goal hold up.
The district championship was West Potomac's first since 1995, according to Director of Student Activities Aaron Helmick.
"We were coming in with really high intensity and I think [Vitali's goal] just proved that they weren't quite ready for us," West Potomac head coach Dana Hubbard said. "We just gave it everything we can and didn't really change how we were going to go after it. We knew we needed to keep the intensity up and keep them from scoring against us.
"This team has been playing better and better as the season has gone on and I think this is just validation [of] all the hard work. I think they believed it from the start. On the bus ride over, they believed they could win and [the goal] just helped to solidify [that it could happen]."
T.C. Williams, the tournament's No. 1 seed, defeated West Potomac, the No. 2 seed, twice during the regular season, each time by a score of 1-0. A pair of one-goal results proved the Wolverines could hang with the Titans. Getting the goose egg off the scoreboard, however, took their confidence to a different level.
"I think knowing that we can score on them, just in general, gave us a lot of confidence that we can actually do this," Vitali said. "Every other game we play, it is always 1-0, them. (With) us scoring, we were like, oh, we actually have a chance at this."
Vitali was a second-team all-district selection at forward.
"She is a very hard-working senior that has really come into her position in the last couple games," Hubbard said. "She has just been a spark for us. She has scored some big goals — she scored [the] game-winning goal against Hayfield, as well. She's just really come on as a player and helped to lead the team."
While Vitali's goal took care of the offense, Ward, who is in her first season playing field hockey, was a key contributor to the West Potomac defensive effort.
"She came into a position where we just sort of threw her in the goal," Hubbard said, "and she has come up big for us and has played better and better as the season has gone on and she has gotten more confident. She is a rock star. She is someone to look for next year. She is going to be a really, really good player."
The Titans kept the pressure on with multiple corners late in the second half, but Ward and the Wolverines preserved the shutout.
How did Ward, who garnered all-district honorable mention, keep from getting nervous?
"Oh, I was so nervous," she said. "I was shaking."
Well, how did Ward keep her composure?
"Deep breaths," she said. "Just trying to stay calm. Talking to my teammates when we [were defending] corners helps me calm down a little bit. Knowing that we can win this really helped me, I think."
The victory improved West Potomac's record to 13-5.
"[Winning a district championship] is unbelievable," said Hubbard, who has coached the Wolverines for a decade. "It is a lot of hard work. It is 10 years of building a program from not a very good program to something that can win a championship. It means everything. It's just amazing."
Junior forward Bella DeMaso, senior midfielder and captain Clare Madden and sophomore defender Katie Jo Moery were first-team all-district selections for the Wolverines. Senior forward Lauren McDonald, senior midfielder and captain Samantha Ward and junior defender Halle Jackson earned second-team honors.
Next up for the Wolverines is a Region 6C tournament quarterfinal game at 7 p.m. on Thursday, Oct. 25 at West Potomac High School.
"[Winning a district title] is such a big deal," Vitali said. "I don't think West Potomac field hockey has won in over 20 years. … It is such a joy to bring this home and hang it up. We're all very happy."