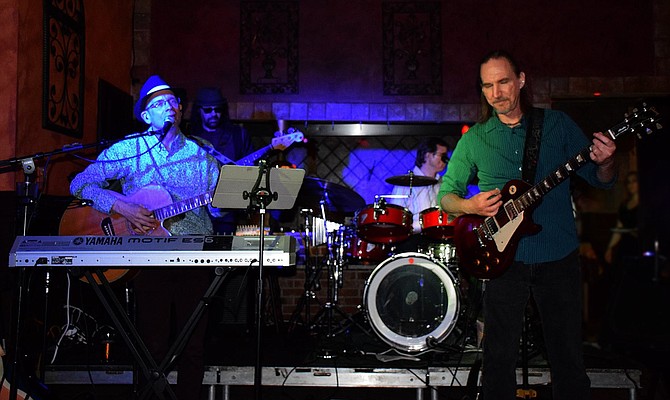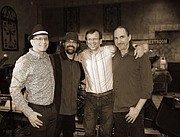 Sure, there is a time many suffer from a pathetic pompadour or badly behaved bouffant, but a horrendous hairdo can, in at least one instance, be a good thing.
For local fans of the Fairfax County-based band Bad Hair Day, this musical version of a crummy coiffure is most welcome. And such has been true for more than a decade.
Founded more than 10 years ago, Bad Hair Day plays gigs all over the Washington metro area. The group focuses on oldies, British Invasion hits and classic rock. They refer to themselves as a band with "solid experience playing familiar, fun, family-friendly music."
What many of their groupies may not realize is that the four men are all Atoms — graduates of Annandale High School. They started working together more than 30 years ago in the late 1980s.
"We each had done smaller, one-off projects while in high school, but nothing was very serious until Bad Hair Day came along," said bass player Matt Aukofer of Vienna.
He added that, "Sometimes it feels like I've been a member of Bad Hair Day forever."
AUKOFER EXPLAINED that he was not sure how the group came with its name but noted that they initially referred to themselves as the Bedheads.
His fellow founding members include brothers Andrew and John Ratliff, who play drums and guitar, respectively; both of them sing lead on vocals. Scott Castonguay joined the band later and also plays guitar. All of them live in Northern Virginia.
Aukofer also plays guitar but has a special passion for playing bass.
"When you play guitar, you're rarely the only one in the band playing guitar. When you play bass, you are the only one playing it in the band, so your parts stand out and are important in terms of holding the music together," he said.
Over the years, the band has played at events as diverse as the National Cherry Blossom Festival, First Night Alexandria on New Year's Eve, and the 10th anniversary of the British Schools of Washington. They have performed at many summer concert series including those at Eastern Market and Ballston Market, as well as weddings and even the 35th reunion of Annandale High School's class of 1981.
Venues range from the National Press Club to historic homes and vineyards.
Asked if he has a favorite place for Bad Hair Day to perform, Aukofer said, "We have done several shows at the Downtown Holiday Market near the National Portrait Gallery. If it's not too cold, the atmosphere is vibrant with everyone in a holiday spirit."
One lesson learned over the years: the fanciness of a venue does not correlate with audience involvement.
"Any show where the audience gets into it is the best. We have played dive bars where the people were great — enthusiastic, loud and dancing — and those are always really fun. On the flip side, we have played really nice venues — ballrooms, parties and weddings — where we were barely acknowledged."
BAND MEMBERS have termed their low-feedback gigs as "glorified rehearsals."
For the foreseeable future, Bad Hair Day intends to continue appearing throughout the national capital area. As they move forward, Aukofer would like to perform a few songs they've not yet performed, such as Eric Clapton's "Lay Down, Sally" and the Steve Miller Band's "Abracadabra."
For more information about the band and to see some live performance videos, visit Facebook.com/BadHairDayDC.