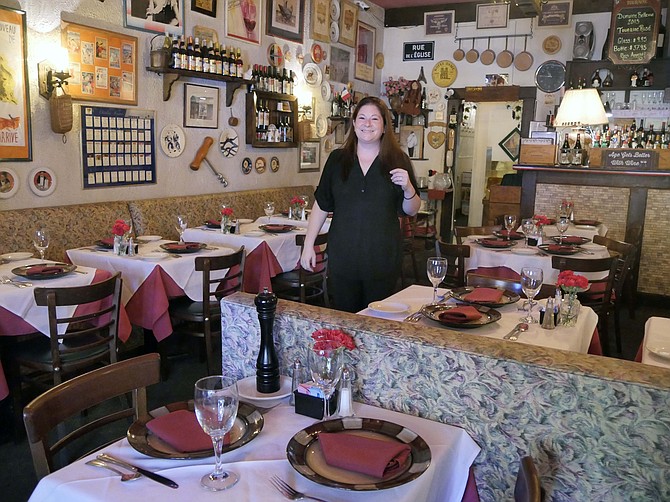 Le Refuge will celebrate its 35th year at 127 N. Washington St. on Sept. 27. Jean-Francois Chaufour came to this country with his wife and his desire to live out the American dream of owning his own restaurant in America. His daughter, Anne-Claire Fregnan, says he had worked in some of the finest hotels in southern France and England. She says he came to America in 1976 with his wife, $1,000, two suitcases and one phone number.
Fregnan readies the restaurant for the Friday lunch crowd as she sets fresh red carnations on each table in the dining room filled with French memorabilia. She says that the menu and tastes have stayed much the same for the 35 years. "The one thing that is different may be the gluten sensitivities but when people come to a French restaurant they like the sauces. They come for a particular dish they like."
She says people flock to the soft-shelled crabs that are served with almonds and garlic butter. Another favorite is the bouillabaisse. "It has fresh rockfish, salmon, clams, mussels, shrimp and scallops." One of today's specials is the quiche Lorraine. Some people return time and time again for the frog's legs.
And she says people like the specialty cocktails that appear hand written on the small chalkboard by the window such as the popular Cardinal which is chilled red wine, fresh raspberries and creme de cassis. Or the cocktail of the day, which today is champagne with passion fruit liqueur.
Le Refuge is open from 11:30 a.m.-2:30 p.m. for lunch and 5:30-10 p.m. for dinner. Fregnan says this is a difference they have seen over the years. "We used to have people come in for dinner at 9 or 10. "Now it's an earlier crowd, more like 5:30 or 6. We don't know why."
After 35 years, Fregnan says they hope to express customer appreciation on their anniversary. "Some people have been coming here for 35 years."