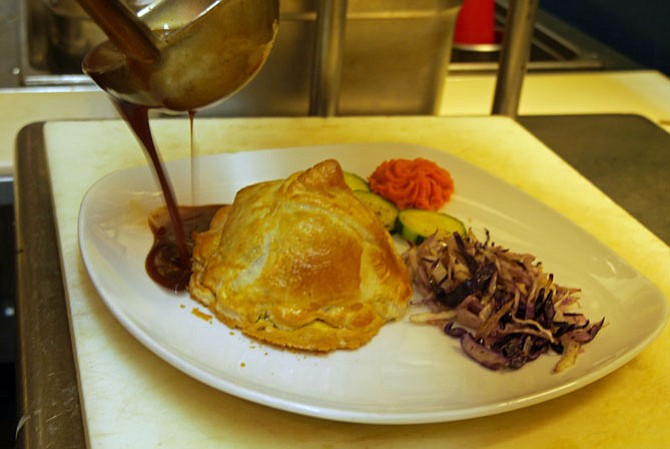 Chef Pawel Podbielski sprinkles flour on the counter so the pastry won't stick. He is making Filet de boeuf Wellington, a customer favorite, at Le Refuge on Washington Street. "Last Saturday night I made 12 of these and they all sold out," he says. "I'm getting this pan nice and hot and then I'll add Kaola gold oil because it's no trans fat and has a buttery taste."
He has portioned out pre-cut whole tenderloins, puts a little salt and pepper on both sides and then sears each side to rare. "Now I'll let it rest for about an hour so it won't make the pastry soggy." Podbielski heats up an adjoining skillet and tosses in white mushrooms. "Another minute and a half just to get good color." He strains off the oil and adds a bit of veal demi glace to coat the mushrooms.
"While the meat is resting it gives me time to get the egg wash ready." The whites of five eggs slip through his fingers into a bowl as he whisks 2 yolks and three whole eggs together for the wash. "I'll probably use the whites for meringues." The skillet on the stove has been replaced with a large saucepan bubbling with chunks of potato, cucumber and onion with a splash of vinegar for the cucumber soup, on today's menu as part of the cold soup trio. "The trio includes a small cup of red pepper, gazpacho and cucumber soup." Victor Flores places large red peppers directly on the flames of two burners to give them a nice crust. Then they will be submerged in an ice bath so the skins will slip off easily.
Hugh Fregnan is sautéing shredded purple and white cabbage in one skillet and slices of zucchini in another for the side dish to accompany the Wellington. "It will be on the plate with a little pureed carrot," Podbielski said. Podbielski takes a short side trip to the oven and pulls out a large tray of pate au choux that will be filled with ice cream and splashed with chocolate sauce for dessert.
Podbielski moves to the counter and places two tenderloins side by side on one of the pastry sheets. He reaches for a small square of duck mousse. "When we get whole ducks in, we make the mousse in house." He spoons a layer of mushrooms on top of the mousse and folds a second pastry sheet over the tenderloins, tamping it down to get the air out. With a small pizza cutter Podbielski cuts around the tenderloin to make a circle, brushing the top with egg wash to give a nice color. He thinks a minute and then cuts a small crescent to pinch in a design on the top of the crust. "I like to make them look nice."
"I'll brush butter on the cooking platter so the pastry won't stick; I'm pretty generous. Then I'll put it in a 400-degree oven for as long as the customer ordered. If they want it rare, it's in the oven just until the outside is a nice golden brown. If they order it well done, we walk a tightrope on the pastry getting burned." He finishes it off with a ladle of madeira sauce and the side of cabbage and zucchini.
"We have a lot of regulars who order the same thing every time. More power to them. Sometimes we get particular orders and we go above and beyond to satisfy them." Fregnan adds, "We have a group that comes in once or twice a week and we make special order potatoes for them."
Podbielski says he has been at Le Refuge about eight months. He says he came from several other places including Monty's Steak House and most recently To Your Taste Catering. "I went to school to learn how to fix cars and worked in a shop for a while but that wasn't for me. I fell into restaurant work and loved it. But if you'd ask me what I was going to do in high school, I'd never have said a chef."
Jean Francois Chaufour, owner of Le Refuge for 33 years, shakes his head. Today part of the electricity went off and the three dozen soft-shelled crabs for the lunch special haven't arrived yet. But he came to America from Beaugency France in 1976. He worked in D.C. as a waiter with his wife Francois and then became owner of Le Refuge because he says, "in France they don't give young people a chance. It's much better here."