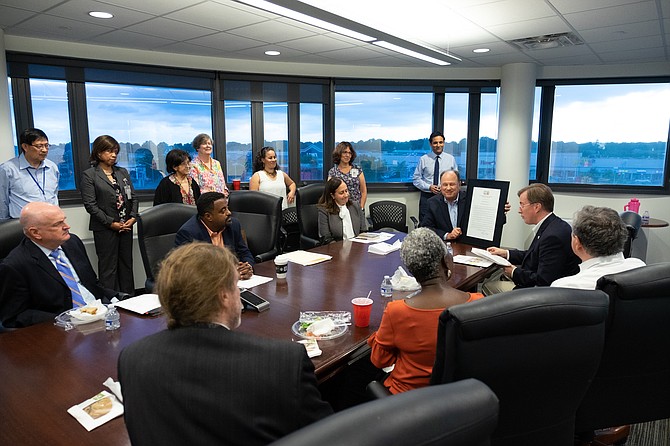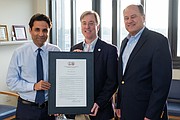 Del. Paul Krizek presented Neighborhood Health's board of directors with a resolution recognizing the organization for its 20 years of service in Northern Virginia.
Krizek was the primary sponsor on the resolution, which also had 21 co-sponsors from across the Commonwealth. It recognizes Neighborhood Health for providing access to high-quality primary medical, dental, and behavioral health care to low-income families in Alexandria, Arlington and Fairfax County.
In presenting the resolution to Neighborhood Health's Board President Tom Greeson and Executive Director Dr. Basim Khan, Krizek expressed his appreciation to board members, staff, and volunteers for their work to advance health equity and expand access to primary care for low-income and uninsured individuals in Northern Virginia. During his presentation, Krizek read the General Assembly resolution and highlighted the following clause: "Over its two decades in operation, Neighborhood Health has remained committed to the idea that all people deserve access to quality health care; its talented doctors, nurses, and staff members have improved the quality of life for countless residents of Northern Virginia."
Khan expressed his appreciation to Krizek and to other General Assembly members who supported the resolution: "For more than two decades, our driving focus at Neighborhood Health has been to expand access to primary care for low-income and uninsured Northern Virginians. Underpinning this work is our belief that everyone in our community –- regardless of their income, background, or whether or not they have health insurance –should have access to health care."
Neighborhood Health's growth has spanned across all programs, including primary medical care as well as dental care, behavioral health, medication assistance, and HIV care. In the past 12 months, Neighborhood Health served more than 20,000 patients, including more than 10,000 without health insurance, in 12 clinics across the City of Alexandria, Arlington, and Fairfax County.
Khan added, "We are grateful to our state, county, and local public officials and to our supporters and community partners for supporting our mission. Our goal is to serve over 22,500 patients by 2019, a 60 percent increase from 2016. We look forward to the work that lies ahead."