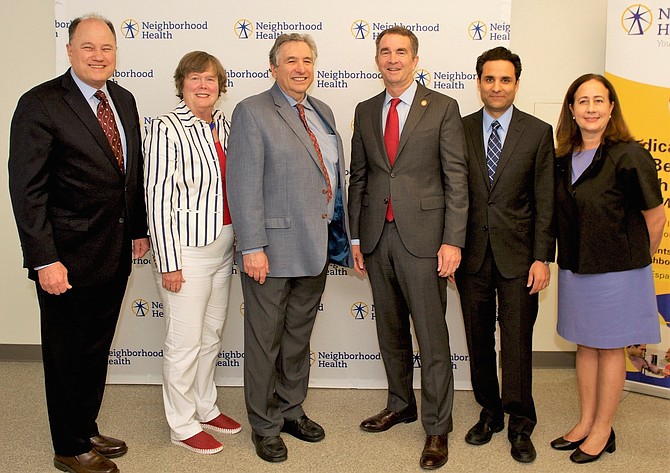 Gov. Ralph Northam and Medicaid Director Jennifer Lee visited a Neighborhood Health clinic to announce 300,000 previously uninsured low-income Virginians have signed up for Medicaid after the recent enactment of Medicaid expansion.
They made this announcement at the Neighborhood Health clinic located on Richmond Highway in Alexandria. In attendance were state Sen. George Barker (D-39); Del. Paul Krizek (D-44); Del. Mark Sickles (D-43); and Del. Patrick Hope (D-47), as well as many community members, and Neighborhood Health board of directors and staff.
Lee began her remarks commending Neighborhood Health for "the great work you are doing here. I am so impressed with so much you do on the front lines," she said.
Lee also praised the governor for his leadership and for the hard work it took to finally get legislative approval for Medicaid expansion which has resulted in a positive impact for hundreds of thousands of adults who previously had no coverage, and who could not afford to pay for the health care services they needed.
Of the 300,000 who became enrolled for healthcare services through the expansion, Lee noted that in less than one year, 229,000 have already received services, and 90,000 of those are now receiving treatment for chronic conditions. She also pointed out that results of a survey of new patients found that two thirds reported that before expansion they had to choose between paying for medical care and putting food on the table for their families, or were forced to go without healthcare completely.
According to statistics released by the state Virginia Department of Medical Assistance Services (DMAS), of the 303,768 adults newly enrolled in Medicaid as of July 31, 102,898 are parents, and 220,584 live below the federal poverty level, which is $20,780 for a family of three. In Northern Virginia and Winchester alone, 59,150 individuals have been enrolled. "Today, they have greater stability in their health and finances," Lee said, adding that it was important to note that this success came in just seven months, "and we're just getting started."
Northam took to the podium to a standing ovation from those in attendance, including Neighborhood Health board members, staff and representatives from community partner agencies. "Healthcare is a right," said Northam. "We all have days when we don't feel well." And, he stressed, having to choose between putting food on the table or going to see a doctor when necessary "is something we shouldn't accept."
Northam addressed the long road it took to reach this point after the Affordable Care Act was passed in 2010 and the effort it took in the past five years for Democrats working in the statehouse to finally succeed, eventually with support from across the aisle. In making his announcement, Northam said: "Because we expanded the Commonwealth's Medicaid program, hundreds of thousands of additional Virginians now have access to medical care and an opportunity to lead healthier, more productive lives. The tremendous progress we have made with enrollment shines a light on the need for quality, affordable health care in Virginia and across our country. We will continue to get the word out to newly eligible individuals who may be unaware that the rules for health coverage have changed."
In addition to announcing the milestone, Northam said he came to Neighborhood Health to "thank everybody," especially the administration and staff for working hard to enroll people. "We really appreciate this," he said. Northam also pointed out that while access to healthcare is a direct benefit to the individuals and families who are now enrolled, it is also a boon to the Commonwealth as a whole because it benefits the entire state economy. "To be productive, you've got to be healthy," said Northam.
Barker, whose district includes parts of Fairfax and Prince William counties and the City of Alexandria, has been among the key players in the expansion of Medicaid, and he noted that the pace of enrollments exceeded expectations. "It's making a big difference already," he said. During the years' long process it took to reach this point, Barker said he would tell people that he couldn't say when it would happen, or how it would happen, but he was certain that one day Medicaid expansion in Virginia would happen.
But he also added, "we're not done yet," noting that expansion does not cover dental care, and there are gaps in mental health services which need to be addressed. "Keep with us," he told the audience. "We'll keep pushing and we'll get it done."
Earlier in the program, Neighborhood Health Board President Tom Greeson welcomed the guests and noted that Neighborhood Health was now serving 25,000 patients in 12 clinics across Alexandria, Arlington and Fairfax County. Executive Director Basim Khan noted that most of Neighborhood Health's patients are low-income, uninsured or underinsured. Neighborhood Health, which began 22 years ago in a small room in an apartment in Arlandria, provides these patients with comprehensive primary care including internal family medicine, pediatrics, dental care, behavioral health, pharmacy assistance, HIV care, case management, and assistance to enroll in public health insurance, such as Medicaid.
Neighborhood Health's mission, he said is "To improve health and advance health equity in Alexandria, Arlington and Fairfax County by providing access to high quality primary care regardless of ability to pay." Given their experience working with the same patient population, Khan noted that Medicaid expansion was a major step in ensuring that everyone in Northern Virginia had access to high quality and affordable health care.
Following the announcement, Northam toured the Neighborhood Health clinic at 6677 Richmond Highway where he met and spoke with doctors, nurses and patients.
For more information about Neighborhood Health or to schedule an appointment, call 703-535-5568 or go to www.neighborhoodhealthva.org.