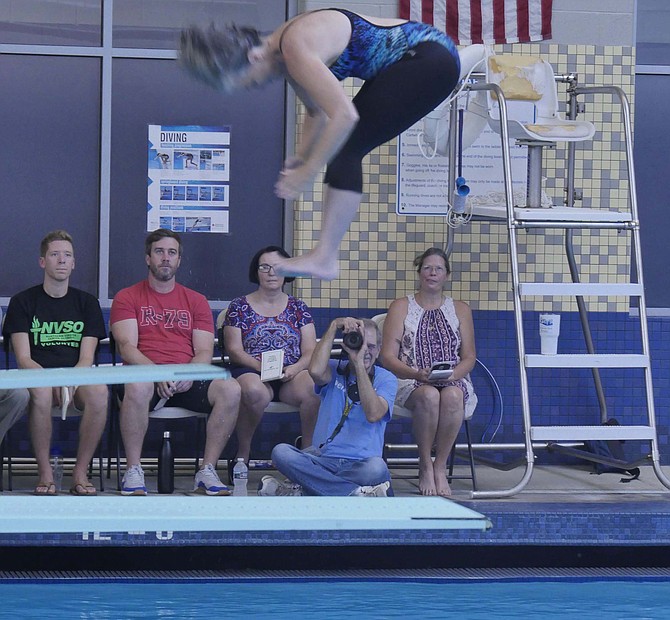 Northern Virginia Senior Olympics (NVSO) opened its 11 days of competitive events on Saturday, Sept. 15 with opening ceremonies at 9 a.m. followed by track, rowing and diving events. Six diving competitors faced off at Washington and Lee Aquatics Center in Arlington.
Three Arlington residents participated in the diving events including Kim and Karen Alderman and Madeline Fleckenstein. Karen Alderman will perform six dives, including a front somersault pike, but Kim Alderman says that in his age group they only allow you to do four dives. Still, his dives include a front dive straight with a full twist and a front dive pike with a one-and-a-half somersault.
Kim Alderman took the blue medal in the men's 75-79- year-old category with a total score of 166.15. Karen Alderman took second in a hotly contested women's 65-69 category with a score of 190.40. Fleckenstein crushed the record in "the youth category" of 55-59-years old with a score of 206.5.
This year 857 participants signed up for NVSO with Doris Woodring the oldest competitor at 108 in Mexican train dominoes.
The events are being held at 29 community and senior centers, parks and schools around Northern Virginia from Fairfax Senior Center, Walter Reed Community Center in Arlington, Occoquan Regional Park in Lorton, Lake Braddock Secondary School in Burke and Lincolnia Senior Center in Alexandria.
Participants are required to be 50 years of age or older as of Dec. 31, 2018 and reside in the Cities of Fairfax, Alexandria or Falls Church or the counties of Arlington, Fairfax, Fauquier, Loudoun or Prince William.
Events range from football and frisbee throw, swimming and track, shot put, bowling, golf, orienteering, and cornhole as well as bridge and cribbage. New events this year are beach ball wallyball, canasta and croquet.