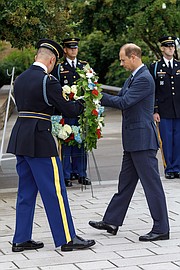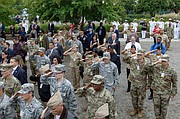 Vice President Mike Pence and Secretary of Defense James Mattis were joined by Britain's Prince Edward on Sept. 11 in paying tribute to those lost in the 2001 9/11 attack on the Pentagon.
"It was the Pentagon's finest Hour," Pence told the crowd of building survivors and family members in describing the heroism of those who rushed into the building to rescue others trapped inside.
An American flag was unfurled at dawn at the building's point of impact from American Airlines Flight 11, which left 184 people dead.