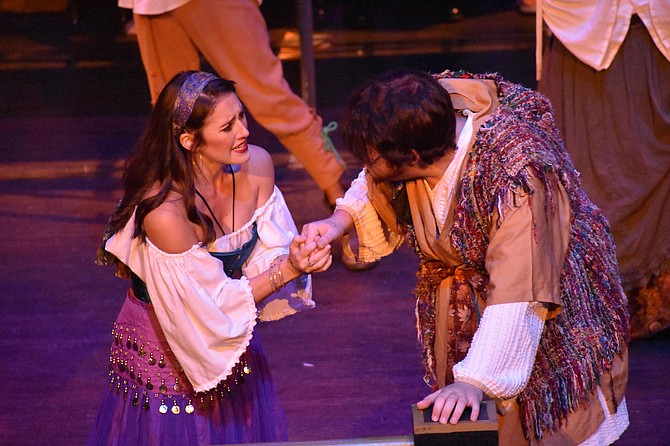 Burke — The road to stardom for former Burke resident Allie Haines began with singing the national anthem at the Potomac Nationals at age 8, the anthem for the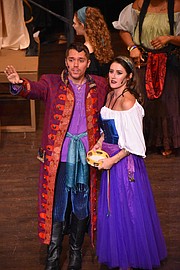 Washington Capitals and Nationals as a teenager, and then starring in Les Miserables at Lake Braddock High School.
She's just finishing up a production of "The Hunchback of Notre Dame," with the Dare 2 Defy theater troupe in Dayton, Ohio, and the sky is the limit from there, Haines thinks.
"It's a huge deal for me, it helped me believe in myself," she said.
In Dayton, where Haines moved after graduating from the College of Wooster in nearby Wooster, Ohio, she was up against seven or eight other women for the part, but it took perseverance and a strong singing voice to pull it off. "I walked out of the callbacks feeling good," she said of the audition process. The show went on at the Victoria Theater in Dayton, a big theater for that city, and her efforts did not go unnoticed by the critics.
"Allie Haines has a beautiful, crystal clear voice. Her rendition of 'God Help the Outcasts' is one of the finest I have ever heard and I say that knowing that it is one of my very favorite Disney musical songs," says Jenni Cypher, reviewer at BroadwayWorld.com.
HER FAMILY made the trip out from Burke for the show. "Could be the beginning of a much longer career," said her father John Haines, who was a believer since the Lake Braddock days. "I had no doubt," he said, "I just knew she had a shot."
Singing was in her heart though since she was a little girl at Cherry Run Elementary School in Burke. She auditioned for the National Anthem for the Potomac Nationals in 2001, and got the job, and was featured on the cover of the Burke Connection, which her father has framed and hanging on their wall at home. At age 10, she was in center spotlight at the Washington Nationals baseball game, and repeated that song at the DC United soccer game at age 14 and then the Washington Capitals hockey game at age 16. Not once did she forget the words. "It always flowed out," she said.
For the Capitals game, she was initially cut but they called her back, and it turned into an adventure, comparable to the reality show "American Idol," she said. Seeing herself on the big screen over the ice at the arena was an eye-opener. The raucous hockey crowd, dropping the puck and the non-stop action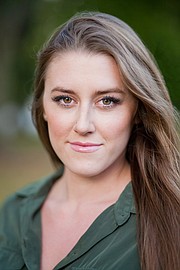 was different than baseball. "Singing for the Capitals is so energetic, very different in the Nationals stadium," she said.
The road to center stage in front of a live audience followed a rambling path. She studied abroad for a semester in Rabat, Morocco where she concentrated on journalism and new media but felt her true passion was singing and drama. At one point, she was in Los Angeles as a production assistant for a movie that has yet to be released. She was getting the cast coffee, and doing every menial job that was thrown her way until she found herself as a chauffeur for one of the stars in the production named Ellie Bamber, and English actress who was 19 at the time, and was also a Chanel model.
"She's really fun and bubbly, we went to some parties in LA, ate 'In and Out' burgers," Haines said. It opened her eyes to movies, television and theater. "The hours were insane, I learned how much goes into it," she said, "it takes a lot to make a great film."
BACK IN DAYTON, she now has a day job at a bank in town and does the theater in the evenings. "It is a long day though," she said of working the two jobs. She's engaged to her fiancé who also went to Wooster and he now works for a local brewery where they both hang out when time allows. "He has a really fun job," she said.
Current singers who left an impression on Haines included Celine Dion and Adele. "Powerful female ballad singers, pretty powerful for me," she said.
Haines is always looking ahead, and has Broadway in her sights, but does entertain the thoughts of another National Anthem – maybe the Cleveland Browns or the Cincinnati Bengals, two NFL teams in Ohio. "I wouldn't pass it up," she said.