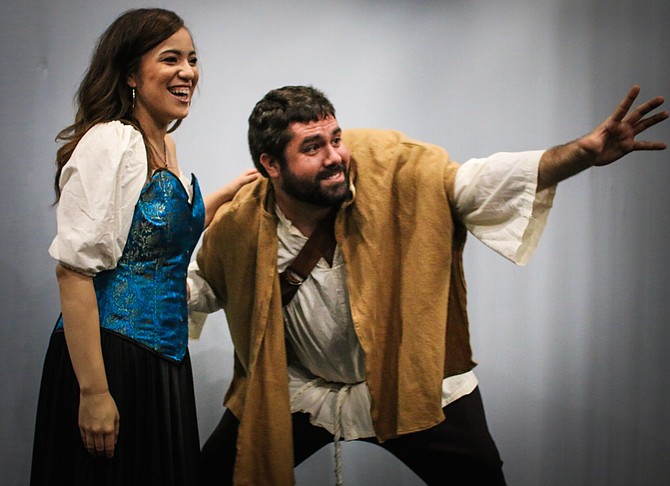 Travel to 15th century Paris and experience the bells of Notre Dame as The Arlington Players (TAP) presents "The Hunchback of Notre Dame" from Oct. 5 to 20. This musical combines the Victor Hugo novel with the lyrics of Stephen Schwartz and the music of Alan Menken to produce a tale of morality and love.
Director Richard Farella said his goal was to bring this age-old story to the stage in a new way. "We want to share the beautiful songs we know and love from the Disney movie with the Arlington community, and also tell the story of a misunderstood boy seeking acceptance in the world," he said. "Further, we are bringing Quasimodo to the stage in a new way. In the stage version, similar to the original book, Quasimodo has been driven partially deaf by the bells, so we have chosen to cast a deaf actor as the physical Quasimodo while a hearing actor voices and sings Quasimodo."
Alex Bryce, who is deaf, is playing the role of Quasimodo, the hunchback of Notre Dame. "Because of his physical deformity, Quasimodo has been forced to live in isolation in Notre Dame's bell tower. He works as a bell-ringer and living in such close proximity to the bells has caused him to become deaf. He longs to experience the world beyond the walls of Notre Dame, so when the opportunity presents itself, he jumps on it," he said.
As far as challenges, he said: "Since English and American Sign Language (ASL) are two distinct languages, each with their own vocabulary, grammar, and syntax, translating the script from English into ASL was a challenge as I had to figure out how to best convey the meaning behind each line, while making it work within the rhythm of the dialogue or song. Since I cannot hear very well, I work closely with my voice actor, Alden Michels, my director Richard Farella, and the rest of the cast to develop my body memory and external cues to help me figure out when to sign or speak my lines and how to best fit the emotion and the musicality of a scene," he said.
Alden Michels is playing Quasimodo's voice, he said. "I'm playing Quasimodo, but in conjunction with Alex Bryce. Quasimodo is a deaf character, so Alex is the physical reality of Quasimodo, but there are several aspects to his character and actions that would not be apparent to a hearing audience. So, lines that he says to himself or to other characters who would understand his language, and anything sung are expressed by me. I am also physically on stage, and, in that way, I take the form of a sort of internal confidant, experiencing life with Quasimodo, and interacting with him to show moments of contemplation or internal conflict. It is a highly collaborative process and unlike anything I've done before," he said.
Matt Calvert is playing the role of Phoebus, a highly skilled French soldier who had been fighting in the war for four years until he came back to Notre Dame to serve the Archdeacon Frollo as captain of the Cathedral Guard. "Since he's come back from the front, he's tired of fighting and wants to indulge in civilian life and put the fighting behind him. He is a sleazy womanizer, but his morals and values are always in the right place … for the most part anyway," he said.
He said that learning the music for the show was a challenge. "There are so many beautiful complex harmonies, and it takes a great amount of patience and hard work to produce the beautiful sounds this cast can produce. It's been a process, but an absolute joy putting it all together musically. We have a great music director and a great amount of stellar vocalists as well as a choir of singers who put their heart and soul into every song. It's really something to behold," he said.
Shakil Azizi is playing the role of Clopin, the king of the gypsies and leader of the Roma in Paris. "Clopin is skilled in crowd play, an expert at misdirection, and an opportunist when causing general mischief. He's not your average Robin Hood, but he probably would say he was if you asked. Clopin is neither rich nor poor, rather he thrives off the survival of his people and those deemed undesirable. At the end of the day, Clopin prioritizes his Romani kin above everyone else," he said.
He added: "One of the things to really take away from this play is that hypocrisy can and will live in all aspects of life regardless of class or status. Clopin's hypocrisy when denying truth is just as apparent when the archdeacon refuses to accept accountability. We see many examples of groups being demonized merely for who they are or where they come from, though it's hard to watch, it's a sad reality that I think many people need to see, and there's no better way to see it in my opinion than a show like this."
Adam Strube is playing the role of Claude Frollo, a lonely man in a position of power who isolates himself to hide and protect from further pain his damaged heart.
"My first challenge was the birth of my son during rehearsals, so to perform while sleep deprived I have had to dig deeper. My second challenge requires a foreword: it bothers me when stories' heroes and villains are black and white and easily defined, while human nature is every shade of gray. Finding the humanity of my character's choices, good or evil, is my greatest challenge each time I take the stage," he said.
He added: "My greatest hope is for people to witness how the characters in this play can parallel current events, and that human nature is more cyclical and less progressive than we hope or wish to believe. We all have instinctive and animalistic prejudices and fears, great capacity to love and despise, and what sets humans apart and allows us to evolve and progress is how we develop and exercise our conscience."
The Arlington Players is presenting "The Hunchback of Notre Dame" from Oct. 5 to 20. Show times are Fridays and Saturdays at 8 p.m.; Sundays at 2:30 p.m. Tickets are $15 to $25. The venue is located at the Thomas Jefferson Community Theater, 125 S. Old Glebe Road, Arlington. Visit www.thearlingtonplayers.org.