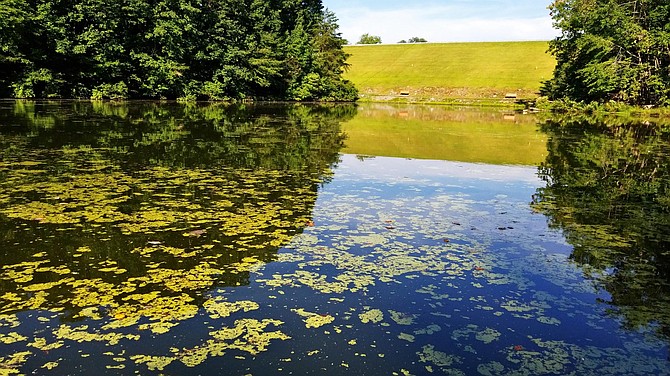 A toxic algae bloom named Microcystis has been discovered on Lake Audubon, Reston Association (RA) recently announced. As of Friday, Sept. 14, warning signs posted the week before by RA on the banks of the lake remained. The signs advised people and pets to avoid all contact with the lake water.
The adverse health outcomes from human exposure to Microcystis are abdominal pain, headache, sore throat, vomiting and nausea, dry cough, diarrhea, blistering around the mouth, and pneumonia according to EPA.gov. Microcystis can produce a family of toxins known as microcystins that have been linked to liver cancer. Some species of the algae can produce toxins that can be lethal not only to humans but also to livestock and fish.
The EPA states the most common exposures to the toxins are during recreational activities when the contaminated water is ingested, comes in direct contact of exposed parts of the body and is inhaled through the aspiration of water containing the toxins.
The microcystis bloom appears like spilled green paint or pea soup. Since Microcystis is composed of gas vesicles, it can migrate throughout the water column, floating on the water's surface in low light intensities and sinking in high light intensities. Wind-driven currents may cause the buoyant blooms to amass on shorelines presenting a higher risk to human and animal health cites the United States Environmental Protection Agency (EPA.) Toxins are released when the cells break apart.
If one comes in contact with contaminated water, the EPA states the Centers for Disease Control (CDC) recommends to rinse off with clean, fresh water as soon as possible and seek medical treatment especially if any of the symptoms mentioned above are recognized. Symptoms may appear within hours or days.
2018 is not the first time RA discovered Microcystis. The Reston Annual State of the Environment Report (RASER) published in July 2017 reports that algal blooms have occurred in Lake Audubon before but are beginning to happen more frequently and with greater severity. "Microcystis, a genus of blue-green algae which form algal blooms of economic and ecological importance, was present in the fall of 2015."

The report explains that Lake Audubon has a high watershed-to-lake surface area, the highest of any of the four Reston lakes thus making it the most challenging lake to protect. This is due to the lake's susceptibility to external nutrient loading from phosphorus in stormwater runoff. Microcystis blooms occur in quiet, warm waters that are nutrient-rich. The use of nitrogen-based fertilizers on lawns and phosphorus enhances the ability of these algae to proliferate. Other lakes, such as Lake Anne and Lake Newport have experienced similar algal blooms. RA stated consultants told that a drop in water temperature would help get rid of the bloom.
After an additional inspection of Lake Thoreau on Sept. 7, RA reported the lake is experiencing another bloom of the purple-tinted Plantothrix rubescens algae, however, no toxin testing was performed there. Reston Associations reminds all members there is no swimming in any of Reston's lakes.