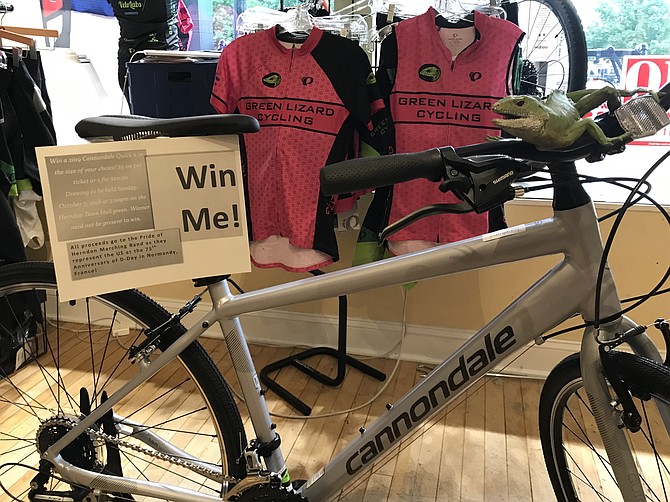 On Sunday, Oct. 7, Green Lizard Cycling in Herndon is hosting the 3rd Annual Fun Ride Bike-a-Thon, co-sponsored by Herndon Rotary Club. All proceeds from the event will help support the Pride of Herndon Marching Band's trip to Normandy, France in 2019. There they will represent the United States at the 75th anniversary of D-Day and pay recognition to the veterans who served on the U.S.S. Herndon, the destroyer that led the Allied naval flotilla in the assault on France.
EOTH, one of the event supporters, writes on their website: "Join us as we ride 25 or 50 miles to raise money for the Pride of Herndon Marching Band to represent the U.S. at the 75th Anniversary of D-Day in Normandy France. Entry fee is $60, and all proceeds go to the band. We will be raffling off a 2019 Cannondale Quick 6 bicycle, graciously donated by Cannondale DMV. There will be a lunch after the ride and drawings galore! Participants get a t-shirt and a goody bag and post-ride lunch."
Green Lizard Cycling will provide pre-ride tire checks at the start line and the Purcellville water stop. The W&OD Trail Patrol will be out assisting Bike-A-Thon cyclists as needed.
Although the regular registration fee is $60, cyclists may participate for free if they secure a minimum of $75 in pledges.
Registration forms, pledge sheets, sponsorships and raffle tickets are available at Green Lizard Cycling, 720 Lynn Street, Herndon or by contacting either Beth Meyer at bam@greenlizardcycling.com, 907-317-0016 or Vicky Robertson, Rotary Club of Herndon, at vicky@vrobertsonhomes.com and 703-867-0271.