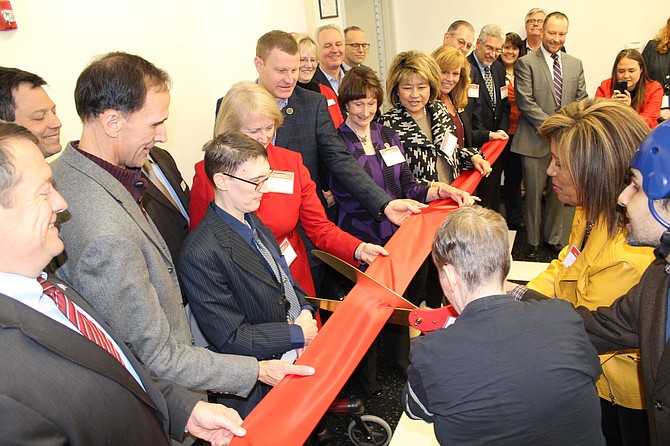 ServiceSource, a disability nonprofit headquartered in Fairfax County, has opened its eighth Community Integration Center in Springfield. The organization's goal is to provide individualized care and better connect people with disabilities to the surrounding community.
In celebration of the newly renovated site, ServiceSource held a ribbon-cutting ceremony on Wednesday, March 20. Approximately 75 attendees joined the ceremony, including various community members and partners, staff, participants and their families. Several state and local government officials also came to support the ceremony, including Del. Vivian Watts (D-39) and Mount Vernon District Supervisor Dan Storck, who both represent the district in which this program opened. Other government officials included state Sen. Scott Surovell (D-44), Del. Kathy Tran (D-42), and members of the Fairfax County Board of Supervisors, including Chairman Sharon Bulova, Lee District Supervisor Jeff McKay and Springfield District Supervisor Pat Herrity.
Located at 7300 Boston Boulevard, the Springfield program will provide clinical and expressive therapies and community opportunities to approximately 100 individuals with significant developmental disabilities. While discussing how far the field has come in supporting people with disabilities, Storck said, "ServiceSource has proven to be a part of that in Fairfax County. This world is about opportunities for everybody to reach their full potential."
The ServiceSource team is continuing to explore volunteer and recreational activities in the surrounding areas for participants to get involved in, both as volunteers and through paid opportunities.
"Thank you for making this investment in Fairfax County, the Mount Vernon District, and most importantly making this investment in our future, our youth and our adults who need this type of support," said Storck.
In addition to disability supports, the program will rent out office space to community partners whose missions align with the vision of inclusive communities.