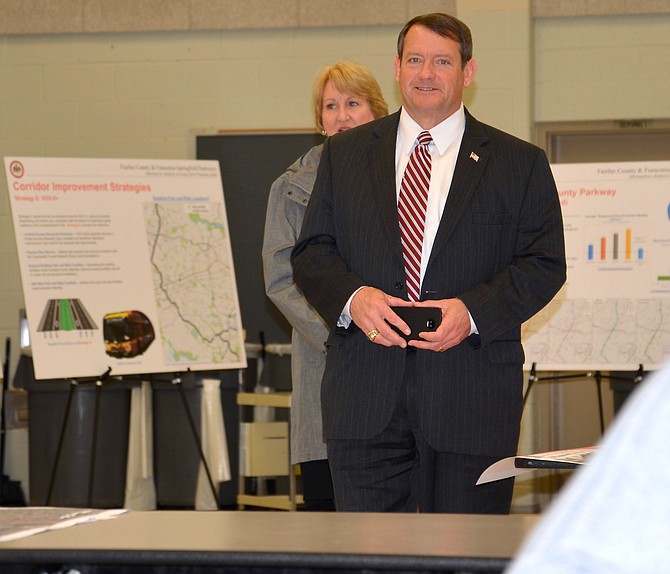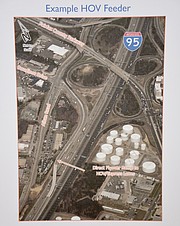 It's time for the public to weigh in again on improvements to the Fairfax County and Franconia-Springfield parkways.
Last fall, Fairfax County Department of Transportation (FCDOT) took their show on the road for three public outreach meetings, seeking input from residents as they conduct the "Alternatives Analysis and Long Term Planning Study" of the two major thoroughfares.
The study aims to review the deficiencies along the 31-mile corridor that starts at Route 7 (Leesburg Pike) in the north and runs to Route 1 (Richmond Highway) in the south and includes 17 interchanges and 83 intersections. Ultimately studies will lead to recommendations to improve the often-congested roadways in the near-term, and as far into the future as 2040.
Some improvements are already underway, as FCDOT representatives told attendees at the 2018 meetings.
Resulting from an "Existing Conditions" study conducted by the Virginia Department of Transportation (VDOT) in 2017, 49 of more than 350 road improvement recommendations have already been implemented, are underway, or are funded, as state and county work together on the project. Many actions are possible without changes to the county's Comprehensive Plan, but others require amendments to the Plan and passage by the Board of Supervisors.
"Public input is critical in making such changes and in considering improvements from all angles," FCDOT Planner Thomas Burke said at the fall outreach sessions.
During the October meetings, and for 45 days after, residents were given the opportunity to provide their own suggestions on how best to improve travel conditions on the parkways. FCDOT solicited the public's ideas via a number of on-line, interactive exercises and comment forums.
Expecting participation by 3,000-to-4,000 county residents, FCDOT instead received 15,150 responses through the survey, another 108 responses via emails and the website comment form, and another 71 comments came through on FCDOT's Facebook page.
THE BIGGEST TAKE-AWAY from the survey – overwhelming opposition from imposing tolls on either road – already made headlines, and Burke assures that the message was received.
"There is no plan that includes tolls on either the Fairfax County or Franconia-Springfield Parkways."
After presenting an update on the study and the analysis of the public's response at a Board of Supervisors Transportation Committee meeting in February, Burke and his FCDOT colleagues held the first session in the second round of public engagement at the Willow Springs Elementary School in Fairfax on March 27 with opening remarks by Supervisor Pat Herrity.
Updated "story" boards were displayed around the school's cafeteria, reflecting a few changes made based on the feedback already received and on requests from Supervisors John Cook (Braddock) and Pat Herrity (Springfield) that FCDOT take a more regional outlook, rather than micro-focusing on the roadways.
Burke used graphs and charts to illustrate analysis of the public's preferences.
Several general themes emerged, which Burke discussed, before summarizing the public's responses by surveyed roadway segments.
After taking toll lanes out of the equation, general support was shown for widening the parkways, although there was concern expressed about homes and businesses that might be lost in the process. There was significant approval for the addition of interchanges to replace signalized intersections.
HOV-3+ lanes were not much appreciated by the respondents, although there was more interest in HOV-2+ lanes. High Occupancy Vehicle lanes drew some criticism from residents who worried that their addition would divert solo-driver parkway traffic onto neighborhood roads.
Burke responded that in the first place, the parkways would always include "general purpose" lanes and not be converted to strictly HOV, even during peak times. He also assured that test models would be vigorously employed before any recommendations became final.
"But, I think it's clear that an HOV lane is necessary for successful enhanced transit," he added.
Enhanced transit was a winner in the public's opinion, with many residents asking for more high-capacity options. Several attendees championed transit, saying the plans should go further than just adding express buses. Suggestions included bus routes that intersected – allowing parkway commuters to change to buses travelling east or to Metro stations. One audience member even recommended light rail transportation to run in the center of the parkways.
PUBLIC OPINION HIGHLIGHTS by segment:
Route 7 to Franklin Farm Road
• Interest in connecting the gaps in McLearen Road
• Concern regarding congestion at intersections, interest in interchanges, particularly at the Dulles Toll Road and south (i.e. FC Pkwy. at Sunrise Valley)
Franklin Farm to Route 123 – this section includes the VDOT widening projects
• Strong support for widening and addition of over or under pass at intersections like Pope's Head Road.
Route 123 – Rolling Road – split with Franconia-Springfield Parkway
• Concerns at Huntsman and Lee Chapel
• Congestion at intersections
• Concern for tree preservation and environmental impacts, particularly near Burke Lake and South Run parks
Fairfax County parkway from parkway split to Richmond Highway
• General approval for the Comprehensive Plan as is with interest in improved signage for ramps
Franconia-Springfield Parkway from split to Beulah
• General satisfaction with the current plan to widen to 8 lanes
Two more general meetings are scheduled, but FCDOT hopes for the same level of participation in the new online survey, launching on March 27 at www.fairfaxcounty.gov/transportation/study/fairfax-county-parkway.
A Baseline Improvements Map is available on the department's website. The Baseline is assumed to be in place, but FCDOT wants the public to provide feedback on five strategies to build on the baseline assumptions. The strategies are:
Expanded Bike and Pedestrian Facilities
Capacity improvements – intersections/interchanges
Capacity improvements – widening without HOV
HOV Feeder
HOV-2+
The strategies are further explained on the website.
Residents can choose whether to provide input for the entire length of both the Fairfax County and Franconia-Springfield Parkways, or for specific segments. A forum for general comments and other suggestions is also available in the survey.
The survey will be open until May 6. Burke will come back to the public with the new results in late summer of 2019, anticipating recommendations and prioritization by early 2020 and Board consideration later in that year.