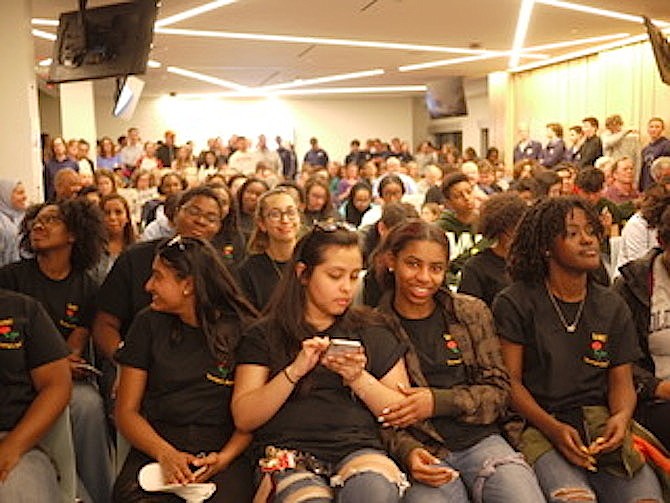 "I know where to begin. The decision to increase class size again is contrary to the goals of the strategic plan. Class size matters. We continue to run with the narrative that APS has small class size. But that narrative is false." — Dan Carroll, Physics teacher at Yorktown High School, Chair of Teachers' Council on Instruction, and Arlington County taxpayer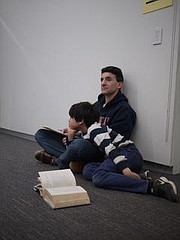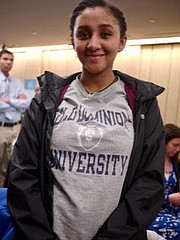 They walked up to the speaker's podium, one by one: students, parents, teachers. Each one of them had a story to tell about what had made Arlington Public Schools (APS) special to them or changed their lives — but was in danger of being taken away.
Most if not all of the Wakefield, Yorktown, and Washington and Lee crew teams were in the crowd to speak about how crew changed their lives. The same themes were heard again and again: Crew is an inclusive sport, the only one which is a no-cut sport, that takes girls and boys regardless of experience or ability, that doesn't require that you start it at age 6. Crew gives students a second home. It teaches discipline, a strong work ethic, and teamwork. It reached out to handicapped kids. For some, it's the reason they go to school. For others, it is the only way they could afford to attend college. Rebekah Nance spoke of crew reverently: "I come from a low income family: the support of the crew team boosters helped me pay the fees I couldn't afford. I got a full ride to college because of this sport. "
Speakers noted that a decision to cut crew — and not other, less inclusive sports — was a slap in the face to minority students, and given that crew is the least expensive sport, per participant, of any other high school sport in the budget, singling it out for cuts was hard to understand, particularly since it was the sport with the highest college scholarship record.
Next up were the students who protested the proposed cut to Minority Achievement counselors or Equity and Excellence coordinators. Kristen Alleyne, a Washington and Lee junior, said she initially found herself struggling with adjusting to the Washington and Lee environment, where she was often the only Black student in many of her AP courses. "I spent many afternoons crying in the office of Mr. Sample," (James Sample, Equity and Excellence Coordinator, Washington and Lee), she said. "It was my safespace ... I surely hope the presence of many minority students sitting in the first row here tonight has been noticed by the School Board ... I truly believe the success and support of minorities in APS is worth way more than the $330,000 saved by cutting this from the budget."
Other Tier Two cuts which disturbed parents and students: Cutting busing to the Thomas Jefferson High School for Science and Technology, the Virginia Governor's school to which APS students go via bus. The cuts would make that impossible for most students — disproportionately for lower income students. Cuts to Montessori assistants. Cuts to lIbrarian assistants,who, as Librarian K.C. Hoffman said, "are not just keepers of the books, but part of the whole family. We sometimes are the place kids come who don't want to go to recess, or we might fix someone's hair at the beginning of the day, or provide advice." Many of the cuts, unintentionally or not, appeared aimed at the positions which provide emotional and social support to students, and many comments implied the rationale for cuts did not seem to take into account qualitative value. Physics teacher Dan Carroll noted in his remarks to the board: "There was a reason you decided to increase the number of social workers at high schools: Do you think that reason is just gone? It isn't."
School Board Chair Reid Goldstein reminded the attendees that the school budget was a proposal, not a finalized document, and reiterated his appreciation for those who had come forward to speak. The upshot of the long meeting was a motion proposed by School Board member Monique O'Grady to direct School Board chair Goldstein to convey to the County Board that additional funds would be necessary. O'Grady said she looked forward to considering more cuts but felt the need to register concern to the county early in the process.
To comment to the School Board about the budget, contact individual board members or email the board at school.board@apsva.us. To comment to the county on the budget, contact individual county board members or email: county.board@arlington.us.and learn more about the county budget see: https://budget.arlingtonva.us/fy-2020-budget-information/.
Students Tell Their Story
One former Yorktown high school (YHS) graduate, Cristian Carrillo, who is about to graduate from Bucknell University, talked about what a difference it made to him to have the Equity and Excellence coordinator, Shari Benites, to talk to. "I was raised by a single mother who was Guatemalan and only studied until middle school. I was supposed to attend Wakefield High, but they redrew the districts so I came into YHS as a freshman — the demographics were really different — I had been at Gunston Middle School, which is in south Arlington. I was struggling. But I was introduced to Mr. Lomax, an assistant principal, and he introduced me to Ms. Benites (Shari Benites, Equity and Excellence counselor at Yorktown High). These positions were formed to help eliminate the achievement gap. But she played a role in my scholarly development, and also provided me with emotional support. If you had problems you could go directly to her. She'd point you to the right person.
"She played a huge role especially when she nominated me to the minority achievement network as a leader. They saw potential in me that I didn't even see myself. That's when I started to see the impact she had on students. She'd help people fill out forms for scholarships. I would be the first person in my family to graduate from college, and no one in my family knew how to fill out forms like that. I got no help from anyone but her. I didn't really know how to navigate all that. I had no real hope of ever being able to pay for college without financial help. She helped me prepare for interviews, telling me I was a born leader and to just be myself. No one else was telling me this.
"Even after I got my Posse scholarship — specifically that comes from the Posse Foundation, I really doubted myself. I was worried about taking someone else's spot at Bucknell and failing; it was an elite institution and what if I couldn't get through? What if I failed? My mother was worried about me leaving. She wanted me to stay in the area and apply to NOVA. I had to talk to Ms. Benites about it. I was so emotional. She told me that it would be difficult, but that I should stop thinking short term and start thinking long term. I went ahead and accepted the scholarship, went to Bucknell, and developed the potential she thought I had. I'll be graduating and getting a good job at Deloitte. I never could have believed I would be capable of taking a job like this 10 years ago. This is why I always talk to people about her because I was so close to rejecting a full scholarship and she got me to accept it.
"When a student is able to attend college, it makes such a difference. You start to meet people from other backgrounds. Social capital is so important. I've made some incredible connections through my friends at college. Shari Benites had always said to me: go out and meet new people — and she was right."
Jade Northover, a senior at Yorktown High this year, said: "Everything Mrs. Benites has done in my life is huge. She has helped me all throughout my high school career. She's helped me when my grades were bad; she helped me talk to my teachers and find a solution to the problem. She has helped me with depression; whenever I was down, Mrs. Benites was the person I would always go to talk to. Honestly, I believe if it wasn't for Mrs. Benites, I don't think I would be graduating high school this year.
"If I didn't have Mrs. Benites, I probably wouldn't have had all of the opportunities that I have had these past four years, such as getting interviewed to be on the news, twice, once in English and once in Spanish, being able to go to the MSAN (Minority Student Achievement Network) Conference and meet some great people. I have gained a lot of skills, opportunities, and happiness being around Mrs. Benites and spending time with her everyday. My school counselor has also helped me, but the only thing is that Mrs. Benites is more available than counselors because they have a lot of meetings and they have other students to care about. With Mrs. Benites, I can go to her and if she knows that I need to talk to her, she'll find me as soon as she is free."