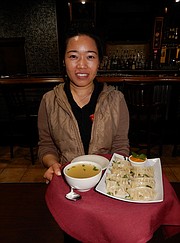 A tandoori is a clay oven where naan bread is made. But in the City of Fairfax, it also stands for Tandoori Nights, a restaurant serving South Indian and Nepalese cuisine.
Owners Raj Tamang and Shyam Lama are both from Nepal, bordering India, so they offer food from both countries. They also own restaurants elsewhere, but this one is in Courthouse Plaza shopping center at 10312 Willard Way. And in May, it'll celebrate its one-year anniversary here.
"We truly believe in quality food and service," said Tamang. "Instead of being a business franchise looking at numbers of diners, we make sure that we take good care of our customers and our community."
The restaurant is open daily, 11 a.m.-10 p.m., and it also offers a popular buffet lunch from 11 a.m.-3 p.m. The price is $9.99, weekdays, and $10.99, Saturday and Sunday. Customers may dine in or call 703-865-8800 or order online at tandoorinightsfairfax.com for pick-up. Or delivery services Grub Hub and Uber Eats will deliver.
"We don't make the buffet food too spicy, so anyone can enjoy it," said Tamang. "But we can make entrees to any spice level the customer likes."
THE MOST POPULAR dishes include Butter Chicken, chicken-breast chunks in butter sauce; Chicken Tikka Masala, chicken chunks in tomato-onion sauce with bell peppers; Honey Butter Chicken, baked with honey, mustard and Indian spices; and both Vegetable and Chicken Momo, marinated and spiced fillings in a steamed dumpling. "But Momo are completely different from Chinese dumplings because of the type of filling and spices," said Tamang. "And ours are served with a tomato sauce."
Other customer favorites, he said, are Lamb Choila, lamb chunks marinated with fresh ginger, garlic and Nepalese spices; Tandoori Chicken, marinated in yogurt, lemon juice and spices; Chicken Tikka Kabob, marinated in ginger, garlic paste, lemon juice and yogurt; and Grilled Salmon, marinated with garam masala, garlic and ginger and served with raita and cucumber-yogurt sauce.
Biryani dishes are also a hit; they're made with either chicken, lamb, shrimp or vegetables and cooked with basmati rice, herbs and spices. A popular vegetarian meal is Palak Paneer, combining spinach, spices and herbs with homemade cheese. Additional menu highlights include a variety of Indian breads and desserts such as Gulab Jamun, which is cooked milk balls in rose-flavored syrup with a hint of cardamom.
"I've been in the restaurant business for 25 years in the Washington Metropolitan area," said Tamang. "I have a real-estate business, an engineering company and a construction company – Green Valley Custom Builders – and my office is in Fairfax City. So Tandoori Nights is convenient for me when I'm hungry."
But most of all, said business partner John Sargent, "The City of Fairfax is one of the best places in the country to do business. We recognize the friendly business climate and feel like the business professionals here match what we're about. We live, work, eat and play with the City decision-makers, so that's what's attractive about starting, retaining and growing a business here."
And, added Tamang, "Since we're a local, family-owned business, we want to focus on building our community relations here. We also do corporate and private events and parties, as well as catering. And we can set up for dancing and karaoke with our stage, lighting, sound system, professional deejay table and speakers."
"Besides the amazing food, what I like about Tandoori Nights are the people, Raj and Shyam," said Sargent. "I like being with people who do business the right way. We're like family here, and we work hard to provide the best-quality product and service possible. Any venture I'm involved with, I have to believe in the product – and this is something I believe in."
THE CUSTOMERS agree. During a recent lunchtime, Fairfax City resident Rikesh Rajak had a hearty meal of lamb chops with vegetables and a side of chickpeas. "I'm from Nepal and I like their Nepalese cuisine, so I come here once a week," he said. "Today, I had lamb and I liked the spices and marinade they used; it was delicious. They have very good Nepalese food here; people should come and try it."
Meanwhile, Erin Brown of Burke was enjoying the buffet. When she first tasted the Chicken Momo, she said, "Ooh, this is delicious. I love dumplings, and this filling is flavored and seasoned really well. And the vegetable soup is light and fresh. It tastes like lemongrass, and you can taste the herbs."
"I'm a member of Northern Virginia Foodies, and I'm sure they'd like to come here," she continued. "I'd recommend this restaurant to others. If you like Indian food, you should definitely check out Tandoori Nights."