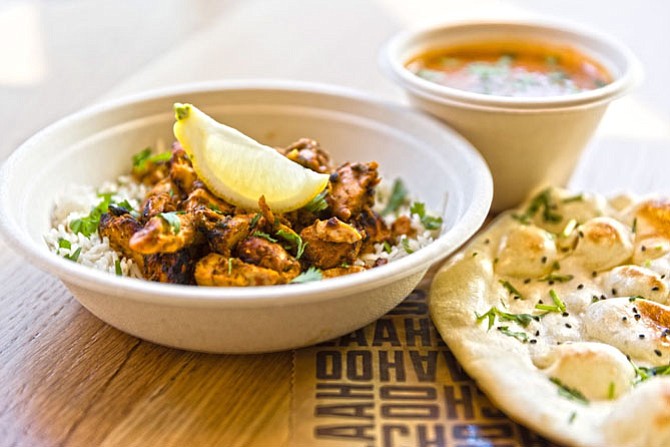 Fairfax — If you love Indian food; shopping and eating in the Mosaic District; or simply
Choolaah Indian BBQ, Mosaic District, 2911 District Ave., Suite 100, Fairfax. Phone: 571-357-3923. Hours: Lunch and dinner daily.
grabbing a cup of coffee, you must tailor your visit to include a stop at this splendid, spiffy Indian eatery called Choolaah Indian BBQ.
Not everything comes from a smoky barbecue pit, of course, but everything is made fresh and to order. Best of all, the kitchen staff, under the direction of CIA-trained managing partner Thomas McNulty, never freezes anything. (By the way, that CIA translates to the Culinary Institute of America, the primo destination for anyone wanting culinary training.)
Just to clarify, Choolaah is not a regular sit-down restaurant with waitstaff. Instead, it is an innovative "fast" food restaurant—that is, order up front, take a seat, get served shortly—that relies on the use of its immense tandoori ovens to do the major part of the meat-and-bread grilling. The owners' goal is simply this: to make the complex flavors of traditional Indian food easily approachable and delicious. They have succeeded.
And, to get a real visual kick out of your meal here, nab a seat near to the open kitchen window and watch how cooks slap circle of raw bread dough (naan) onto the sides of the tubby ovens, or hang hooked skewers over the edges to cook the meat cubes. You may even get the treat of watching a cook toss the circular dough in the air, much like a pizza cook does, to round out the dough.
The foods and flavors are the real draws here, however. Options vary, of course, from barbecued items—chicken, lamb salmon, tofu, and veggies—served over a bowl of brown or white rice and accompanied by white or whole wheat naan; salads, tandoori wraps to specialties and street snacks. And what, you may wonder, are some top dishes? Well, according to your tastes, they all rank as worthy.
You should kick off any meal with an order of samosas or the pav bhaji, a soft bread roll that comes with a bowl of spiced vegetable/lentil curry. It appears that that is a vegetarian version of a Sloppy Joe.
Then let's start with the roasted lamb meatballs, packed with flavor. These are arranged on a bed of rice, and accompanied by a piece of naan. You can add extra flavor by going to the condiments stand (for utensils and napkins there, too) and select from among some spicy and not-too-spicy sauces. The spicy mango sauce is fabulous, but other choices include mint yogurt; tamarind ginger; choolaah ranch; raita; and choolaah lava, which is probably searing hot.
Perhaps one of the most unusual dishes, however, is the salmon tikka masala. The fish is so fork tender and flavorful that patrons must quickly lap this dish up with pieces of naan. Served with rice, and accented by your choice of sauce, this dish is a masterpiece. And for a composition of rice with chicken or vegetables and presented with a naan crust topping, try the biryani, an Indian classic.
For drinks, the thick mango lassi is a perfect cooling treat, though you may wish for a delicate ginger-mint lemonade. Both help wrap up the meal as you spoon through the ice cream choices: mango (!!!) and cardamom.
Before you leave, be sure to admire the wall art, commissioned artwork by several painters who captured the spirit of a modern Indian eats place. Sure to make you smile, especially the composite elephant…