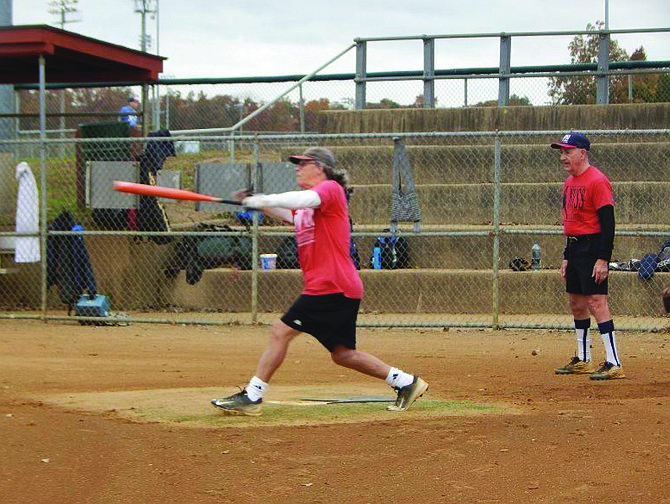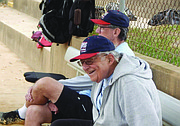 Have you ever dreamt of finding a magic potion to slow down the aging process? Well, there are more than 80 seniors who are 80+ years old in Fairfax County that seem to have done just that. But for them, the potion doesn't come in a bottle. Instead, it comes from a diamond — a softball diamond.
TWICE A WEEK from April to November, many of these "super seniors" head out to softball fields across the county for a dose of the best anti-aging remedy around. The 81 men and women are members of the Northern Virginia Senior Softball (NVSS) league, a 500-member, all-volunteer organization that has been around since 1980 and whose goal is to promote good health, sportsmanship, fellowship and fun. NVSS players range in age from 40 (women) or 50 (men) to 94, but it's the super seniors who seem to really benefit.
Tony Giannini, 82, lives in Ashburn and started playing NVSS softball 23 years ago. Today, he's still going strong. He and Springfield resident Larry Scarlata, who's 80, play in the league's toughest division, alongside several teammates who are young enough to be their kids. Both Tony, an outfielder-turned-pitcher, and Larry, a third baseman, credit softball for keeping them healthy and strong. Larry says softball plus a stretching program have helped him avoid surgery for a back problem that began nearly 40 years ago. Keeping active is the key, they both say, and the research backs them up. According to the Centers for Disease Control, regular physical activity can reduce a host of risks: falling and fractures, coronary heart disease, colon cancer, diabetes, anxiety and depression, and joint swelling and pain associated with arthritis. Studies also suggest a lower risk of dementia in physically active individuals.
Because softball involves throwing, catching, bending and running, it's really a whole-body workout, covering the four key types of exercise recommended by health professionals: balance, flexibility, strength and endurance.
Since not every senior is in the same shape, NVSS divides players into three leagues based on an initial assessment. That way, players are grouped with others of similar ability, regardless of age. "We all have issues — none of us can run as fast or throw as hard as we used to," says Jesse Christian, an 85-year-old outfielder from Arlington. "But we love being active — that's the main thing."
That sentiment is echoed by George and Beth Hersey, 81 and 83 respectively. The couple, who live in Great Falls, rarely miss a game. "Playing softball keeps you young," says George.
Beth Hersey, who has managed an NVSS team for the last 20 years, said, "I don't think we have had anything more serious than a strain or sprain in all the years we've been playing. We know that every Tuesday and Thursday morning, Spring 'til Fall, we'll be outside with friends, playing and having a great time." The Herseys don't stop playing when the season ends; they conduct indoor softball training sessions for other NVSS members at the Dulles SportsPlex from December through March.
NVSS also offers several indoor training sessions at the Fairfax SportsPlex in Springfield during the off-season. One of those weekly sessions is run by 86-year-old Dave Scheele, a long-time shortstop who joined the league at age 53. "I started playing softball as a way to relieve stress," he says. "My wife was battling breast cancer at the time and softball gave me something else to focus on for a few hours a week." Scheele, who lives in Springfield, has made many, many friends through the sport and says NVSS has been "a wonderful part of my retirement. I can't imagine how I would've handled it without softball."
Scheele and the others know firsthand that participation in a team sport like softball can combat the feelings of isolation and low self-worth that may crop up as we age. According to the Jan/Feb AARP Bulletin, an analysis of data collected from 1.2 million adults found that team sports offered the most mental health benefits from exercise. Sports increase self-esteem; seeing positive results from playing as part of a team can improve morale and foster a greater sense of purpose.
THAT'S A BIG PART of why Alexandria resident Harvey Wenick, 82, still plays. He calls the camaraderie the best part. "Meeting other seniors and having teammates is just great," says the lefty third-baseman. "I played golf and tennis as an adult, but I didn't enjoy them all that much. A friend suggested I try NVSS and I was hooked immediately. It's so much fun — playing softball makes me feel like a kid again."
For Harvey, and for the other 80 NVSS members who are over 80, that feeling is as close to a magic potion as they're likely to ever find.
For more information, go to nvss.org