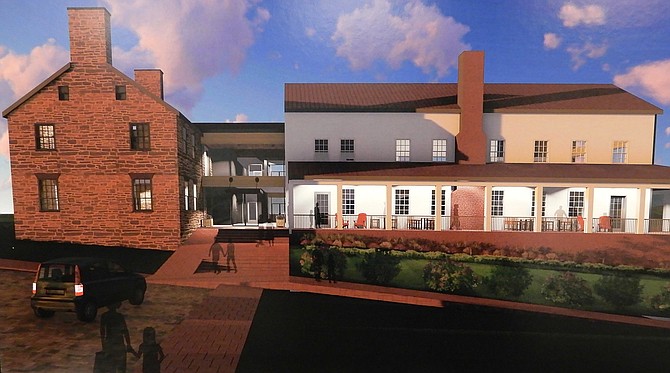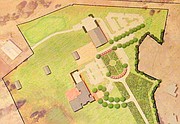 The Winery at Bull Run was established in 2012 as a scenic working farm. On 225 acres adjacent to Manassas National Battlefield Park, it's at 15950 Lee Hwy. in Centreville, next to an equestrian farm.
Owner Jon Hickox crafts fine Virginia wines while honoring the history and preservation of 19th century, pastoral, Fairfax County. And since opening, it's become immensely popular for tours, tastings and as a place to hold special events.
Now, though, Hickox is branching out. He's become involved with a new venture and has applied for a farm-brewery permit. "The inspiration for a farm brewery was our winery," he said. "Except we're going to be making beer from hops, instead of wine from grapes."
He presented his idea, as well as an artist's rendition of the new facility, at a recent joint meeting of the West Fairfax County Citizens Association (WFCCA) Land-Use Committee and the Sully District Council of Citizens Associations. The plan is to construct two adjoining buildings – both with a nod to the area's history. One will pay homage to Willcoxon Tavern, and the other will honor the Stone House.
"We want to create historic-looking structures that fit in with the landscape," explained Hickox. "[Built in the early 1800s], Willcoxon Tavern used to be behind the old courthouse in Fairfax City, and we're trying to revive that landmark for the brewery."
Throughout the 1830s, that tavern wasn't just somewhere to drink, but was also a neighborhood gathering place. People held meetings and public auctions there and conducted business, including taking depositions for court cases.
AS FOR THE STONE HOUSE, it's two stories at the intersection of Route 234 and Route 29 (Lee Highway) in Manassas National Battlefield Park. It was built in the 19th century and, during the Civil War, this stone structure sheltered wounded Union soldiers during the two battles of Manassas.
In Hickox's vision for his farm brewery, an all-glass atrium will be the entrance between the two new buildings based on the historic ones. To make it become a reality, Natasha Jimenez, the winery's special-events coordinator, said they're requesting from the county an amendment to the current special permit for the existing horse stables on that site.
"The stables will remain, but this [farm brewery] slightly encroaches on the pasture," she explained. "And we'll also need a special-exception permit for this new use."
The WFCCA's Chris Terpak-Malm said the biggest issue for her was "the access. Bull Run Post Office Road is not the best road." But Hickox reassured her that the new brewery would have its own, separate, access road off of Bull Run Post Office.
WFCCA's Steve Chulick also noted that, as it is now, "It's so difficult to make a left onto Lee Highway from the winery."
However, replied Hickox, "It's worked for six years. And I'd prefer to keep them as two, separate businesses – the farm brewery and the winery – with their own entrances. And they're actually a half-mile apart."
He said, as well, that he has no plans to have a restaurant there, but he added that "We can have food trucks." When Terpak-Malm asked if weddings or other events could be held on the premises, Hickox answered, "We can have events on the weekends, with up to 300 people per event. They help our business, but they're not the main focus."
GETTING INTO SOME PARTICULARS, he said, "A lot of the pre-production of beer will be done off-site, so that will vastly reduce the amount of water we'll need. We'll have six beers; and only one, very special one will be made there, in a limited capacity."
Excited about the project, Jimenez added that, "There's an amazing view from the back." Agreeing, Hickox said, "You can actually see the Blue Ridge Mountains, on a clear day."
WFCCA Land-Use Chairman John Litzenberger said, "The plans look great, but we don't know what will happen after county staff analyzes them." So Hickox will return to this panel with another presentation after he's received some guidance and suggestions from the county.
Meanwhile, the special-exception permit request is scheduled to go before the county Planning Commission on July 17, and the county BZA (Board of Zoning Appeals) is slated to hear the request to amend the special permit on July 24. And Hickox is hopeful both actions will be successful.
"This isn't a massive, real-estate development," he said. "This is a passion I have."