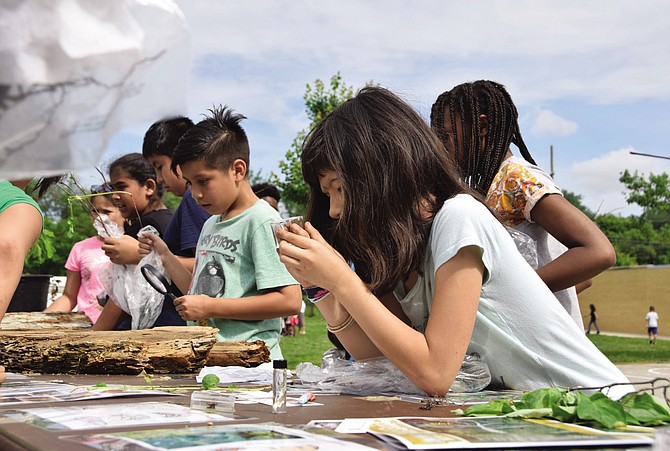 This is the week for elementary school students to give their teachers homework.
Montgomery Parks is accepting applications for this year's Arbor Day celebration, an opportunity for a day of fun and educational activities for students in grades 3-5. It is open to all county schools, public and private.
Applications need to be completed by teachers, not students.
Though the application deadline is not until April 19, Thomas Berry, urban forester with the National Capital Park and Planning Commission, said he has already received 18 submissions.
This year, he said, they are concentrating on Green Schools, those already designated Maryland Green Schools, and those hoping to become Green Schools.
"The Maryland Green Schools Program, recognized schools that include environmental education in the curricula, model best management practices at the school and address community environmental issues," according the Montgomery Schools website.
"We are targeting Green Schools because they have to do a school-wide project," Berry said.
Students from the winning school will participate in a half day of activities including:
Canopy Exploration, where a Montgomery Parks Arborist will demonstrate and explain the activities of a tree climber. Students will learn about the work of maintaining tree health and safety.
Compost Cooks, not for lunch. This activity allows students to mix raw materials and learn about the phases compost goes through to form a finished product.
Tree Planting Demonstration, the school will get a new tree and students will learn the proper way to plant trees.
Tree Identification Walk, during this activity students will tour the school grounds and learn to name and identify characteristic of resident trees.
Tree Pests and Plant Health, a discussion of insects and diseases that affect County trees and learn ways they can be treated.
Berry said the activities will benefit the young students in many ways.
"It is a way for students to see that, if they are interested in working with the environment, there are jobs for when they get out of school," he said. "We also want to supplement the programs available in County schools and give the [winning] school the opportunity to knock something off their list to become a Green School or maintain Green School status."
Some local schools with Green School status include Bells Mill Elementary, Beverly Farms Elementary, Cold Spring Elementary, Geneva Day School, Potomac Elementary, Travilah Elementary, Wayside Elementary.
Teachers who choose to do this "homework" can find the application at www.surveymonkey.com/r/MontgomeryParksArborDay.
For more information, visit www.montgomeryparks.org/about/divisions/arboriculture/arbor-day/